Considering that Khilanani claims her words were taken out of context, it's best to show the entire video here. She did a follow up interview after the initial talk.
On April 6, Aruna Khilanani, a forensic psychiatrist and psychoanalyst gave a talk at Yale University, where she spoke of violent fantasies about killing white people.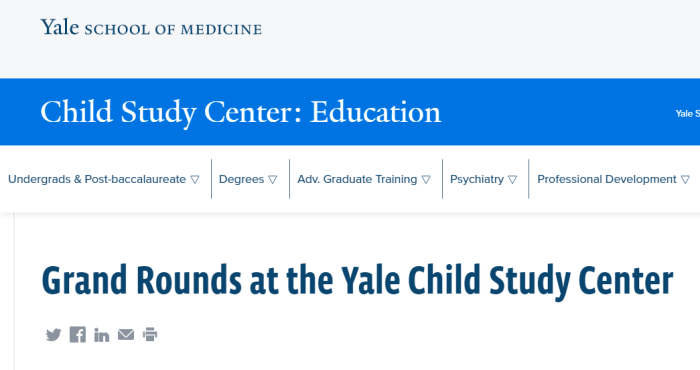 Statement from YSM
On April 6, a speaker who is not affiliated with Yale gave a Child Study Center Grand Rounds talk, with the provocative title "The Psychopathic Problem of the White Mind." After the event, several faculty members expressed concern to the Yale School of Medicine's Office of Academic and Professional Development and the Office of Diversity, Equity & Inclusion about the content of the talk.
Based on these concerns, School of Medicine leaders, including Dean Brown and Deputy Dean Latimore, in consultation with the Chair of the Child Study Center, reviewed a recording of the talk and found the tone and content antithetical to the values of the school. Because Grand Rounds are typically posted online after the event and in consideration of Yale's commitment to the right of free expression, school leaders further reviewed the Report of the Committee on Freedom of Expression at Yale.
In deciding whether to post the video, we weighed our grave concern about the extreme hostility, imagery of violence, and profanity expressed by the speaker against our commitment to freedom of expression. We ultimately decided to post the video with access limited to those who could have attended the talk — the members of the Yale community. To emphasize that the ideas expressed by the speaker conflict with the core values of Yale School of Medicine, we added the disclaimer: "This video contains profanity and imagery of violence. Yale School of Medicine expects the members of our community to speak respectfully to one another and to avoid the use of profanity as a matter of professionalism and acknowledgment of our common humanity. Yale School of Medicine does not condone imagery of violence or racism against any group."
Instead of outright condemning this, Yale decided to post it, but limit the access of who could watch it. One can only imagine the outrage if the races had been reversed in this case. She now claims she was using metaphors, and wasn't calling for overt violence.
Khilanani tries to spin this as some sort of social justice mindset, instead of overtly calling for violence. It comes across as incredibly condescending when she tries to "explain" it.
Khilanani has since doubled down, claiming both: (a) that she wasn't quoted in full context; and (b) justifying how such views would be shaped. See the video at the top. She appeared on BNC news on June 16.
Apparently, white people got triggered (pardon the pun) for Khilanani saying that she fantasized about shooting whites in the head and walking away. She mocks whites for being offended by her words. Despite an initial impression, this woman doesn't appear to be trolling. She seems to mean the anti-white hatred she spits out.
Also, if the West was built by whites oppressing and slaughtering others, is Khilanani not benefitting from this? Is she not enjoying a Western lifestyle created from the blood and bones of others? There's no indication she's about to abandon that life here and move elsewhere.
Treating everyone else just as people isn't enough, in her mind.
This is racial hatred cloaked as psychological methods and research. Her choice of hosts for a "clarification" interview is interesting as well.
(1) https://www.youtube.com/watch?v=o20tk-QrZiE
(2) https://twitter.com/marclamonthill/status/1405491706842292225
(3) https://medicine.yale.edu/childstudy/education/rounds/
(4) https://yalecollege.yale.edu/get-know-yale-college/office-dean/reports/report-committee-freedom-expression-yale