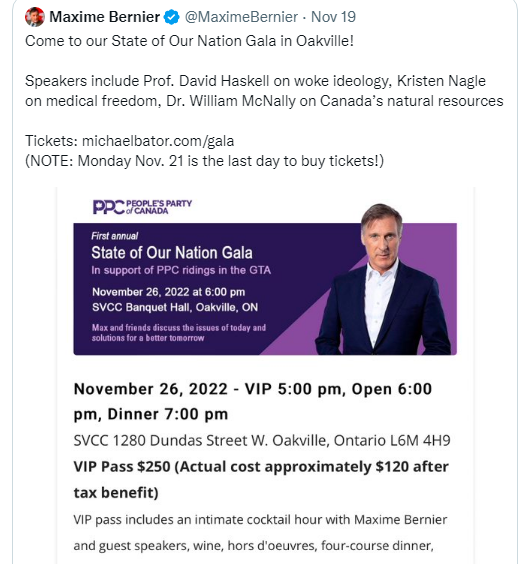 A serious question to ask: is it considered a form of corporate welfare when taxpayers are forced to subsidize political dinners?
If a $250 dinner only costs a person (approximately) $120, that means that the public has to cover the rest of it. This sort of thing is completely wrong, regardless of which party is doing it. It's wrong when it's Trudeau involved, and not any better for others.
True, the public shouldn't be forced to bailout companies like Bombardier, GM, Chrysler, Air Canada, or many others. That being said, how is this any different? How are laws which compel the public to finance these get togethers better?
This opinion is reflective of donations in general, not just overpriced dinners.
Of course, Bernier and PPC have much deeper structural problems than this:
No elected leader/leadership race
No policy votes
No internal charter or constitution
No governing documents
No elected national governing council
Dozens of EDAs shut down for not filing mandatory financials
These issues have been brought up before, Now, even if a proper structure were to be put in place, what are the chances of any sort of electoral success? Heck, the "leader" can't even get a seat.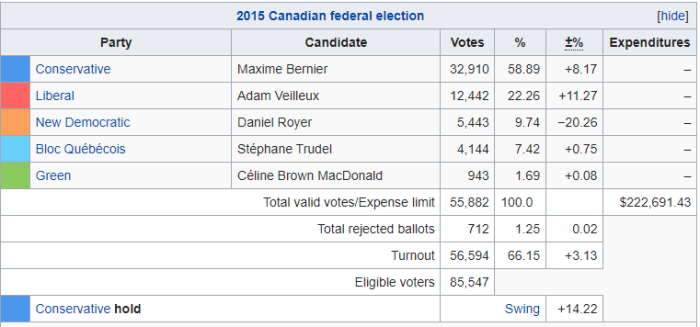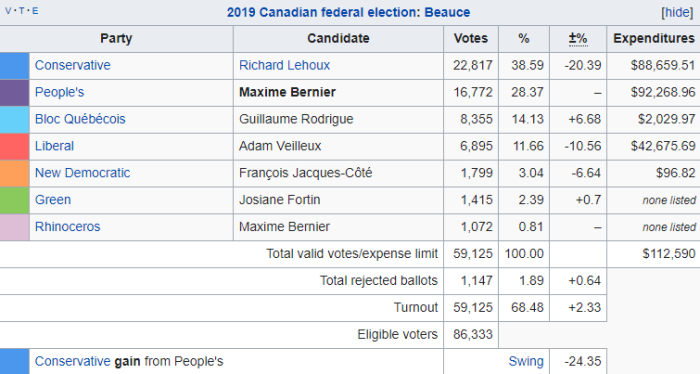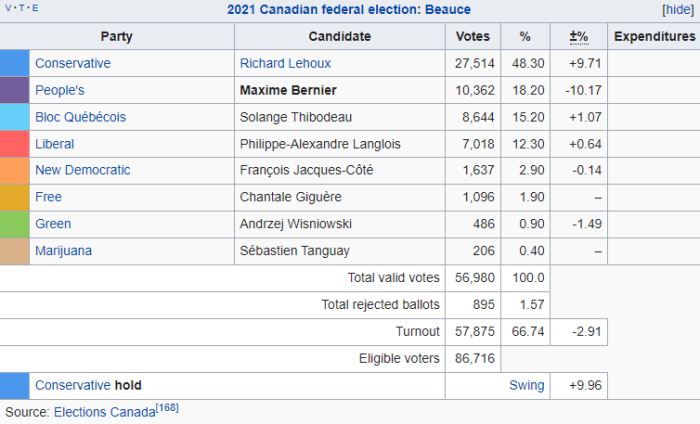 Bernier won reelection in October 2015, with 59% of the vote. In 2019, he lost with 28%, and again in 2021 with just 18%. Keep in mind, he had the riding for 4 terms, and his father for 3 terms before. It's even more screwy because his signature issue, supply management, arguably cost him Beauce.
When the head of the party lost his own riding, a safe riding, by 30 percentage points, he needs to go.
While this dinner — and similar ones — may be viewed as cash-for-access, it's rather amusing considering the complete lack of electoral prospects. It seems that an M.P. pension, a Privy Council pension, and $104,000 annually as a salary isn't enough.
(1) https://twitter.com/MaximeBernier/
(2) https://twitter.com/MaximeBernier/status/1594494740053082112
(3) https://www.canada.ca/en/revenue-agency/services/tax/individuals/topics/about-your-tax-return/tax-return/completing-a-tax-return/deductions-credits-expenses/federal-political-contributions-line-40900-total-contributions-line-41000-tax-credit.html
(4) https://www.peoplespartyofcanada.ca/
(5) https://www.peoplespartyofcanada.ca/supply-management
(6) https://en.wikipedia.org/wiki/Maxime_Bernier
(7) https://canucklaw.ca/4-years-later-no-constitution-votes-or-governing-documents/
(8) https://canucklaw.ca/ending-political-corporate-welfare/
(9) https://canucklaw.ca/elections-canada-fundraising-isnt-okay-when-edas-shut-down-for-no-financials/
(10) https://www.cbc.ca/news/politics/peoples-party-canada-maxime-bernier-1.5695908