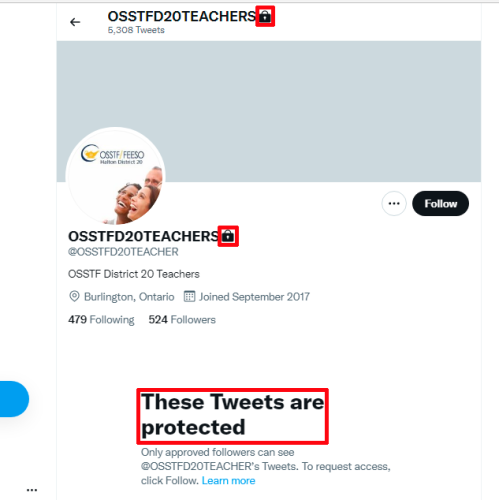 Apparently equal treatment isn't the way to go for the Ontario Secondary School Teachers' Federation. This break came from Jonathan Kay of the National Post. He caught what was going on in at least 1 district in Ontario schools. There's even a video explaining why treating people differently is good for society at large. However, looking into it a bit, it seems the rot goes much deeper.
The response from District 20 of the OSSTF was to lock its Twitter account so that no one could see the tweets, unless it was approved to follow them. Guess the group really can't face any public scrutiny over its racist policy. To be clear, when these groups talk about "uplifting marginalized voices", they really means stripping away the rights of whites.
Under the pretense of "equity" and "lifting up marginalized voices", segments with the teaching profession seem fine with giving whites a lesser vote when it comes to decision making.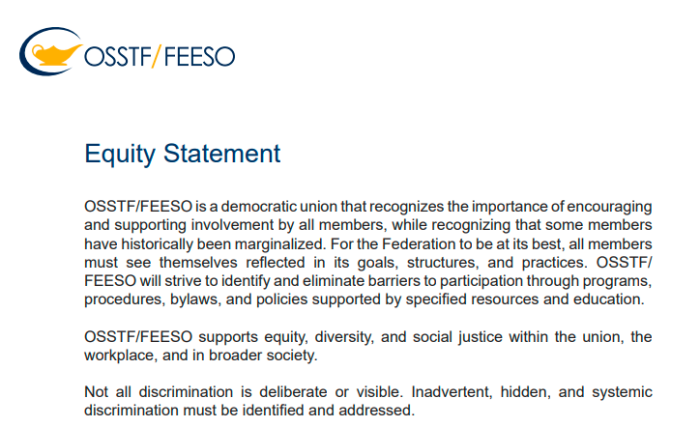 OSSTF/FEESO is a democratic union that recognizes the importance of encouraging and supporting involvement by all members, while recognizing that some members have historically been marginalized. For the Federation to be at its best, all members must see themselves reflected in its goals, structures, and practices. OSSTF/FEESO will strive to identify and eliminate barriers to participation through programs, procedures, bylaws, and policies supported by specified resources and education.
Equal opportunity to participate in the Federation does not mean treating all members the same. Within a democratic framework, promoting the engagement of members of equity-seeking groups is a valid and necessary approach to reaching equal outcomes.
Federation programs and policies designed to eliminate barriers must not only do so, they must be widely seen to do so
The OSSTF Statement on Equity is a doozy. In just a single page, the group has shown that its goal is not education but to uproot society and cause division. The OSSTF doesn't just want teachers to be teachers, but to be agents in their anti-white agenda.
The last sentence is also quite telling. Not only must our programs has these certain goals, but they must be "seen" as doing so. In other words, optics is very important.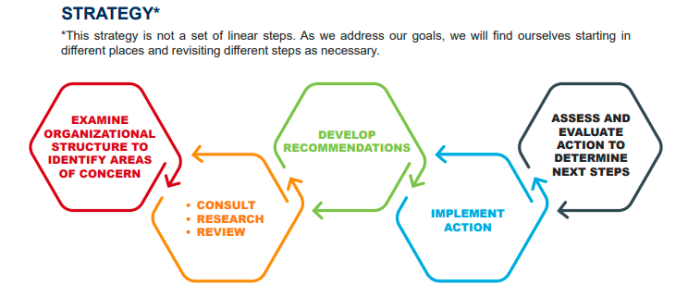 The Ontario Secondary School Teachers' Federation (OSSTF/FEESO) is a strong, independent, socially active union that promotes and advances the cause of public education and the rights of students, educators and educational workers. While establishing working conditions for its members, OSSTF/FEESO also works to build strong public services, preserve academic freedom, prevent the privatization and commercialization of our educational institutions, ensure that students receive an education that is free of bias and discrimination and provide an equitable opportunity for all students to succeed in a strong, well-funded public education system.
As an organization that prides itself on being a defender of publicly-funded education, OSSTF/FEESO has worked to meet the challenges of addressing equity and social justice. Anti-oppression work is not easy. Like the society we live in, OSSTF/FEESO is not immune to having a troubled history when it comes to the marginalization of equity-seeking groups. We recognize that groups of members within OSSTF/FEESO are still experiencing structural and systemic discrimination such as anti-Indigenous racism, anti-Black racism, racism, homophobia, transphobia, ableism, and sexism in the present day.
The OSSTF also has an action plan on equity, and it's mind numbing. That said, it's also a glimpse into how schools in the West really operate. Instead of treating all students the same, and allowing the better students to rise, this works on the assumption that some fall behind only because of structural prejudices. As such, apparently it's the role of schools to fix imaginary societal problems.
The OSSTF explicitly states that "social justice" is to be integrated into how it operates. In other words, political ideology will be woven into the education system.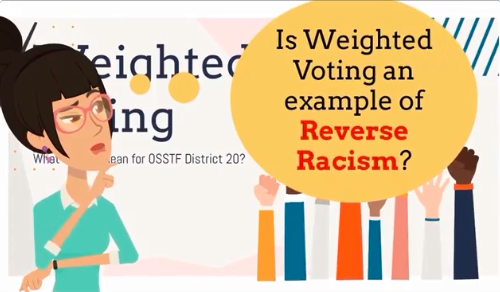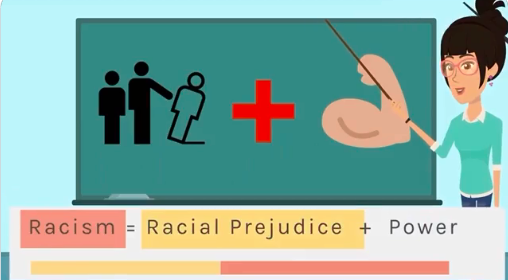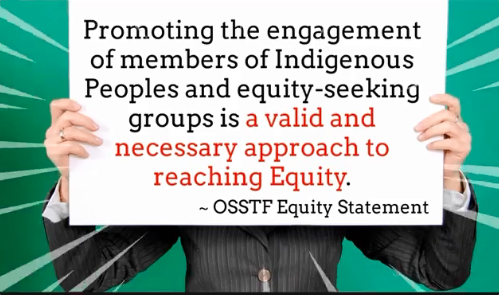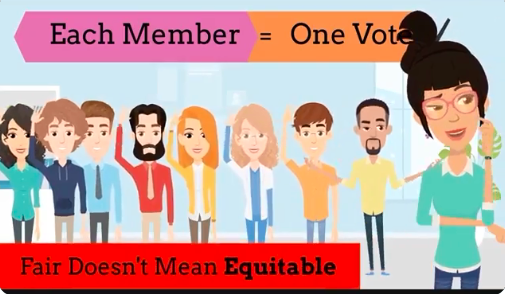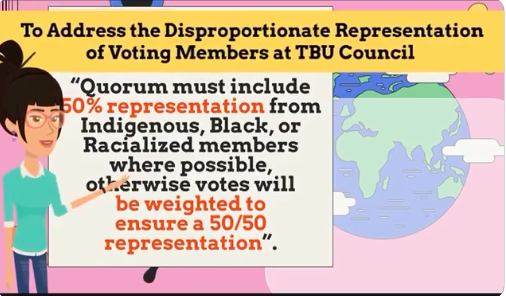 More information is available on Kay's thread. It's disturbing to see that not only is this openly promoted, but it seems to be widely endorsed. Now, an example of how weighted voting might work is provided as well.
In the following case, 7 out of 20 people support a certain initiative. The exact one isn't important. 7/20 comes out to 0.35 or 35%. Now, the races of some must be weighted differently so that they represent 50% of the vote. This kind of thing nullifies real democracy, and reduces policy votes to ethnic makeup.
Strangely, the same supporters of this would immediately denounce Jim Crow laws, which meant a black's vote was worth only 3/5 of a white's vote. In principle, this is exactly the same thing here, just with new groups at the head.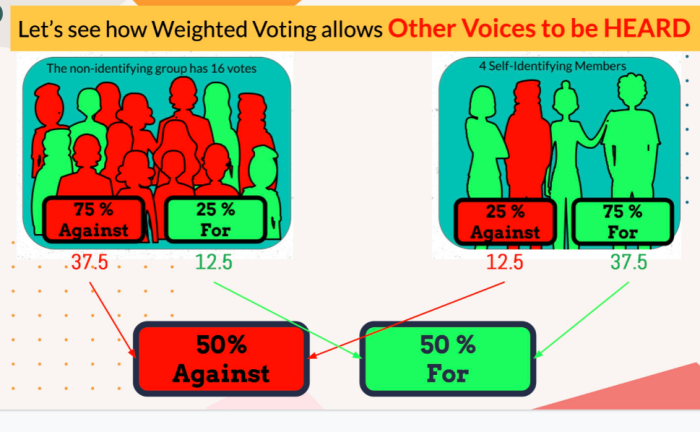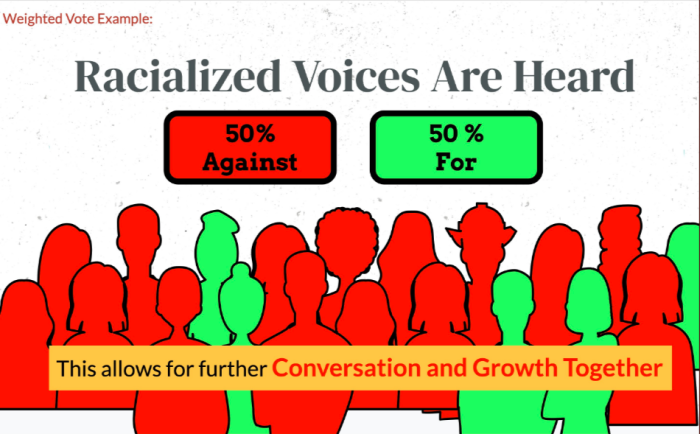 It's clear that supporters of this have no concern whatsoever about the will of the majority. The 50% weighted vote will ensure non-whites have at least half the voting power, regardless of the actual makeup of the group. Notice that there's no provision to protect whites who are minorities in certain communities.
If fairness isn't always (or ever) equitable, then the statement can be reversed: equity isn't always (or ever) fair. Moreover it stands on its head the kind of society lefties claim they want, as multiculturalism would be inherently flawed.
Parents are outraged by this, as they should be. The OSSTF is playing along with the narrative that everything is based on oppression, and society needs to be inverted. It's pretty screwy to refer to women as a marginalized group, when they make up the vast majority of teachers in elementary schools, and a large minority (if not a majority) of high school teachers.
It shouldn't be all that surprising that the feminist movement claims responsibility for a lot of the changes going back decades. Certain groups supported affirmative action 40 years ago, and still do today. Now, should people who think everything is oppression really be educating children?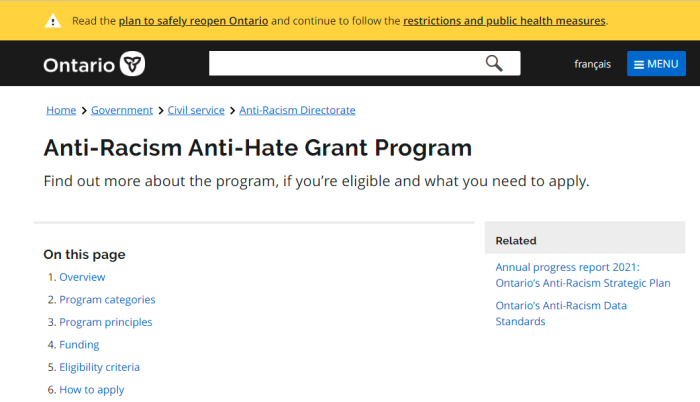 Far from being limited to Ontario Teachers, the Provincial Government also has a fairly large section devoted to "antiracism" activities. The Anti-Racism Directorate was established in 2016, when Kathleen Wynne was Premier. Since taking power, Doug Ford has apparently seen fit to leave this intact. It gets even worse.
Anti-racism strategy
2 (1) The Government of Ontario shall maintain an anti-racism strategy that aims to eliminate systemic racism and advance racial equity.
.
Contents of strategy
(2) The strategy shall include the following:
1. Initiatives to eliminate systemic racism, including initiatives to identify and remove systemic barriers that contribute to inequitable racial outcomes.
2. Initiatives to advance racial equity.
3. Targets and indicators to measure the strategy's effectiveness.
.
Same
(3) The initiatives referred to in paragraph 1 of subsection (2) shall include initiatives to assist racialized groups that are most adversely impacted by systemic racism, including Indigenous and Black communities.
.
Same
(4) The initiatives referred to in paragraph 2 of subsection (2) shall include initiatives to address the adverse impact of different forms of racism, including anti-Indigenous racism, anti-Black racism, antisemitism and Islamophobia.
In 2017, the Ontario Government brought in the Anti-Racism Act. Doug Ford left it intact. The Act goes on and on about equity, or equality of outcome. This is quite different from equality of opportunity.
Not only has Ford not scrapped any of this, but taxpayer money is getting handed out in the form of antiracism grants. Some $1.6 million has been set aside for this effort.
This builds on Section 15(2) of the Canadian Charter, which fully endorses racism and discrimination, as long as the people doing it claim to be acting on behalf of marginalized groups. Strangely, there is one group that is never oppressed, despite being harmed by all these equity initiatives.
As the white population continues to disappear in Ontario, and elsewhere in the West, expect this sort of thing to only get worse. It's bad enough to be a despised majority in society. When one becomes a despised minority, that's when things get ugly.
(1) https://twitter.com/jonkay/status/1461847160253779974
(2) https://twitter.com/OSSTFD20TEACHER
(3) https://www.osstf.on.ca/about-us/what-we-stand-for/equity.aspx
(4) OSSTF Equity Statement 2020
(5) OSSTF Plan On Action On Equity
(6) https://www.osstf.on.ca/about-us/what-we-stand-for/social-justice.aspx
(7) https://riseupfeministarchive.ca/activism/organizations/ontario-secondary-school-teachers-federation-osstf/
(8) Ontario Secondary School Teachers' Federation (OSSTF) – Rise Up! Feminist Digital Archive
(9) https://riseupfeministarchive.ca/activism/organizations/ontario-secondary-school-teachers-federation-osstf/osstf-forum-oct-nov1983-affirmativeaction/
(10) Making Up the Difference_ Mandatory Affirmative Action (Forum) – October_November 1983
(11) https://www.ontario.ca/page/anti-racism-directorate
(12) Anti-Racism Directorate _ ontario.ca
(13) https://www.ontario.ca/page/anti-racism-anti-hate-grant-program
(14) https://www.ontario.ca/laws/statute/17a15