On May 8, 2021, Andrew Lawton of True North did an interview with Alberta Premier Jason Kenney. To put it mildly, this was a softball. Lawton went out of his way to avoid difficult questions, and help Kenney along. Rather than holding the Premier to account, Lawton acted as a form of controlled opposition. Commenters on Twitter were quite angry. He gave more legitimacy to the tyrannical measures imposed in the Province.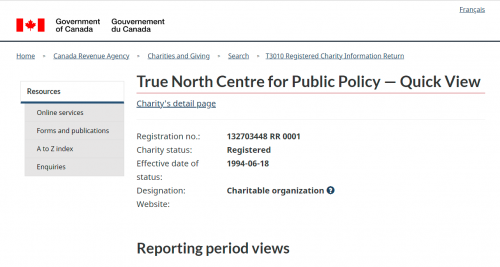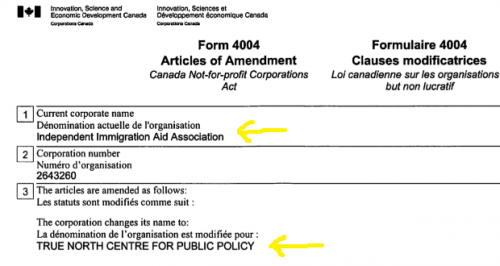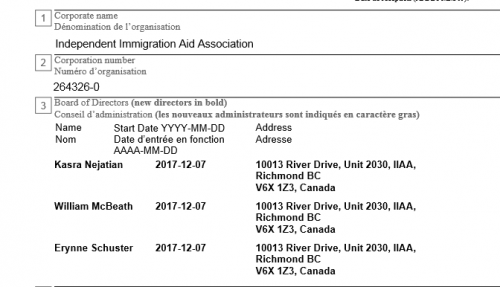 True North got its "charity" status under very dubious terms. Rather than founding one (as Candice Malcolm leads people to believe), she took over an existing one. See the CRA or search corporations in Canada for more information. True North used to be called the Independent Immigration Aid Association, founded in 1994.
Prior to "founding" True North, Malcolm and her husband, Kasra Nejatian, were staffers for Jason Kenney. They worked in his office while he was Multiculturalism Minister in Stephen Harper's Government. This detail is never disclosed publicly.
Kenney used to run the Canadian Taxpayers Federation, a Koch/Atlas think tank. Malcolm worked for them as well. Nejatian is still part of the Canadian Constitution Foundation, another Koch/Atlas group. He's also a Director at True North, but not openly listed. None of this is disclosed either.
It's beyond hypocritical for True North to rail against media outlets being bribed by Trudeau, while it gets tax breaks from pretending to be a charity. The most likely reason for taking over one, as opposed to starting one, is that there would be far less scrutiny.
Lawton himself was a 2018 candidate for the Ontario Provincial election for Doug Ford. To his credit, that is openly mentioned.
And "staffer" is the impression that interview gives off. Lawton tries his best to make Kenney look good, or at least better. What questions could have been asked?
Why do the goalposts keep shifting on these measures?
Has this virus eve been isolated? See Fluoride Free Peel.
Why at PCR tests used, when they can't determine infection?
WHO defines Covid deaths as "clinically compatible illness in a probable or confirmed case". How is this medically or scientifically based?
What agreements were made to simultaneously shut down economies?
What really happened March 2020 at World Economic Forum?
Why are daily press conference questions screened in advance?
Are these public gathering bans about safety, or just making it harder for opposition to gather and talk openly?
Why are churches closed, but mosques can remain open?
How can you justify jailing people for attending church?
What gives Kenney the right to indefinitely suspend basic rights?
Who runs Alberta? You or Deena Hinshaw and her people?
Why is computer modelling treated as if it were science?
What is the scientific basis for determining "non-essential businesses"?
How are you "pro-business" if you keep shutting them down?
What is the actual science behind banning indoor gatherings?
What is the actual science behind social distancing?
What research was done into looking at potential harms from masks?
At what rates are people being harmed from "vaccines"?
Is the lack of testing on pregnant women/nursing mothers a concern?
Is the lack of testing on pregnant children a concern?
If these are safe, why are manufacturers indemnified?
Are these "vaccines" approved, or given interim authorization?
Why ignore the fact that testing continues for years to come?
What recourse will people have if harmed by "vaccines"?
Why is Deena Hinshaw, an unelected bureaucrat, running the Province?
Why is AHS, an autonomous corporation, allowed to dictate freedoms?
Why is the Alberta Public Health Act based on the 2005 Quarantine Act?
Why was the Quarantine Act passed to accommodate the World Health Organization's International Health Regulations? WHO-IHR?
Do these public health orders override AB Bill of Rights?
Doesn't it do an end run around due process to deny Provincial services to people with unpaid tickets, even if they intend to oppose them in Court?
What really happened when you attended Bilderberg?
Finally: Who the hell do you think you are?
There are more of course, but this just a sample of some of the hard questions Andrew Lawton could have asked. Instead, he allows Kenney to spread his nonsense unchallanged.
It is possible that Lawton his oblivious to all of the above, and did no research at all. However, a more likely explanation is that agreeing to softball questions was a condition of the interview. While having access to politicians is quite understandable, this does the public a huge disservice.
Last November, Jason Kenney did an interview with Danielle Smith, former head of the Alberta Wildrose Party. Kenney admitted doing reading that indicated 90% of positives could be in error, and he shrugged it off.
Both Deena Hinshaw (Alberta), and Bonnie Henry (British Columbia), has introduced the standard of "assuming" that positive test results are variants. This has no scientific basis at all.
It's difficult to see who the audience was here. Many of the commenters in the video call out Lawton for his softball approach. No new information was learned, as Jason Kenney just repeated his same lines as before. Although Lawton (may) not have wanted this, Kenney's handlers certainly would have advised him on which topics are off limits. Overall, it was very disappointing.
Never again should Lawton criticize the CBC for giving Trudeau a pass. He did exactly the same thing here to Kenney.
https://archive.is/19n6U
https://archive.is/mpab4
If you want some real research, check out this HEALTH series, or this COVID series. This is the kind of information that should be shared openly, but isn't.
Jason Kenney is a fake conservative.
Andrew Lawton is a fake journalist.
True North is a fake charity.