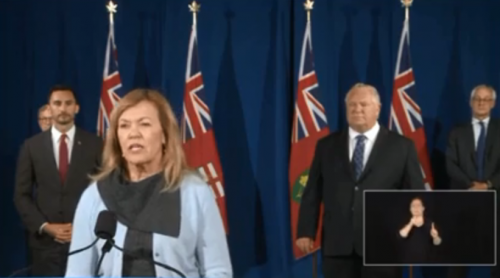 One year ago, Ontario Health Minister, Christine Elliott, was asked in a press conference about the death of a woman who died "from Covid", as it was officially listed. The interesting thing was that she tested positive for the coronavirus, but that wasn't acually the cause of her death. Nonetheless, it was formally written up as if it were.
The obvious conclusion one could draw from that was that Ontario (and other jurisdictions) were deliberately conflating the 2 in order to artificially drive up the death toll. In other words, this "pandemic" was being manufactured, at least in part. See this for more examples.
This video was pulled off a Facebook page in early June, which is now unavailable.
To my knowledge, there has never been any follow-up on this, by anyone in any "mainstream" outlet in Canada.
Elliott's main qualification for being in Cabinet seems to be her being the widow of the late Jim Flaherty, former Ontario Finance Minister.