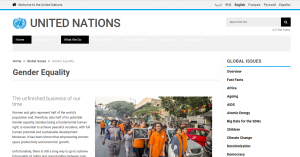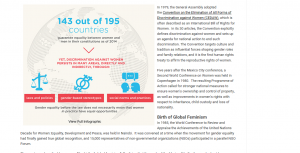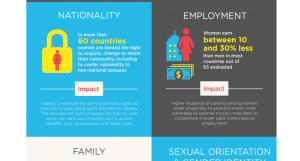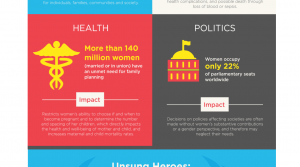 1. Important Links
CLICK HERE, for the UN page on gender equality.
CLICK HERE, for women's human rights.
CLICK HERE, for about UN women.
CLICK HERE, for goal #5 of sustainable development.
CLICK HERE, for guiding principles of UN women's advisory, civil society groups.
CLICK HERE, for the Commission on the Status of Women.
CLICK HERE, for Canada's GBA+ (Gender Based Analysis Plus)
CLICK HERE, for declaration of women's rights.
CLICK HERE, for the 1995 Beijing Declaration for Women.
CLICK HERE, for the 2017 system-strategy for gender parity.
CLICK HERE, for gender-inclusive language
CLICK HERE, for guidelines for gender inclusive language.
CLICK HERE, for tools & training for gender inclusive language.
2. Review Of Subject
One thing to point out right away. There are topics here that make Western feminism seem ridiculous. Legal rights for women, and banning FGM are significant issues to deal with in the 3rd world. So kudos to the UN for pointing that out.
Another thing to note is it is a legitimate question if the UN writes policies for the Canadian Government to implement. Trudeau goes on and on and on about women's equality in Canada, even in Cabinet. Canada has full equality for women, and has for generations. Yet, we are told daily there is systemic discrimination.
Regarding the "gender-inclusive language", there are far more important issues to deal with. However, there are recent examples of cuck-splaining, and mangling the National Anthem.
On Main Page
Unfortunately, there is still a long way to go to achieve full equality of rights and opportunities between men and women, warns UN Women. Therefore, it is of paramount importance to end the multiple forms of gender violence and secure equal access to quality education and health, economic resources and participation in political life for both women and girls and men and boys. It is also essential to achieve equal opportunities in access to employment and to positions of leadership and decision-making at all levels.
I would actually agree with this. Women "should" have equal rights and protection across the globe. However, all of this other nonsense, like GBA+ and "inclusive language" get added in as well. Makes the entire idea of women's equality seem silly by comparison.
Dates of Importance
1/ February 6, the International Day of Zero Tolerance to Female Genital Mutilation is observed,
2/ February 11 is the International Day of Women and Girls in Science,
3/ March 8 is International Women's Day,
4/ June 19 is the International Day for the Elimination of Sexual Violence in Conflict,
5/ June 23 is International Widows' Day,
6/ October 11 is the International Day of the Girl Child and on
7/ October 15 the International Day of Rural Women is observed.
8/ November 25 is International Day for the Elimination of Violence against Women
8 dates specifically to women? That seems excessive. That level of pandering would make almost any SJW/NPC blush.
Gender Based Analysis Plus (GBA+)
What is GBA+?
GBA+ is an analytical process used to assess how diverse groups of women, men and non-binary people may experience policies, programs and initiatives. The "plus" in GBA+ acknowledges that GBA goes beyond biological (sex) and socio-cultural (gender) differences. We all have multiple identity factors that intersect to make us who we are; GBA+ also considers many other identity factors, like race, ethnicity, religion, age, and mental or physical disability.
For more information about identity factors go to Government of Canada's Approach, or take the Introduction to GBA+ online course.
GBA+ and gender equality
In 1995, the Government of Canada committed to using GBA+ to advance gender equality in Canada, as part of the ratification of the United Nations' Beijing Platform for Action.
Gender equality is enshrined in the Charter of Rights and Freedoms, which is part of the Constitution of Canada. Gender equality means that diverse groups of women, men and non-binary people are able to participate fully in all spheres of Canadian life, contributing to an inclusive and democratic society.
The Government recently renewed its commitment to GBA+ and is working to strengthen its implementation across all federal departments.
To learn more about the Government's renewed commitment, including its response to the 2015 Report of the Auditor General of Canada "Implementing Gender-based Analysis", view the:
While in the developing world, these things "may" (I emphasise "may") be helpful in some sense, they are useless in the 1st World, where women have had equal protection for years. About the only purposes may be:
1/ Creating affirmative action programs
2/ Shaming and controlling men
Perhaps sexual assault isn't a crime, but rather men and women experience things differently.
Gender Inclusive Language "Toolbox"
Toolbox for using gender-inclusive language in English
The Toolbox for using gender-inclusive language in English is a set of training materials, activities and resources for individuals or groups looking for ways to raise awareness of the subject, better understand how to apply the Guidelines and/or promote further discussions in their teams.
The materials, activities and resources included in the Toolbox can be used independently from one another. The goal is to encourage United Nations staff to actively use gender-inclusive language principles in English and share best practices with other colleagues in the workplace. Each tool provides step-by-step guidance that includes clear goals, relevant resources and suggestions on the next steps.
New resources and training programmes in the six languages will be included in the Toolbox as they become available.
Not only are there calls in Canada for the "gender inclusive language" but the UN provides fairly extensive training in using this language, and does so unironically.
Being "inclusive" in addressing someone
1.1 Forms of address
When referring to or addressing specific individuals, use forms of address and pronouns that are consistent with their gender identity.
For United Nations staff members, you may check the intranet or the organizational or staff directory. If the staff member appears as "Ms.", that is the form of address that should be used for her, and female pronouns are appropriate. Alternatively, and if the situation permits, you may ask the persons you are addressing or writing about what pronoun and form of address should be used for them.
Note for United Nations staff members who draft texts to be translated: If you are the author of a text that is going to be translated, and your text is referring to a specific person, please let translators know what the gender of that person is so they can use appropriate language in their translations. This is crucial for languages such as Arabic, French, Russian and Spanish.
There should also be consistency in the way women and men are referred to: if one of them is addressed by their name, last name, courtesy title, or profession, the other one should be as well.
Not to be outdone, underneath this, the UN provides many examples and scenarios what is "more inclusive" and what is "less inclusive". This is extremely passive aggressive and controlling.
These ideas infiltrate the current federal government in everything that they talk about and implement. This is too long to cover full, but do check out the links and read for yourselves.
A final thought: while there are legitimate issues of equality and safety of women in the 3rd World, the UN seems to gloss over them in favour of the endless virtue signalling the 1st World engages in.
Challenge
The UN writes the Liberals' gender policies.
Change my mind.