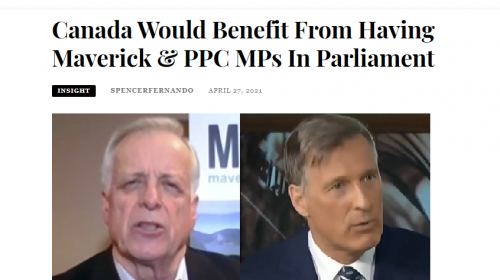 On April 27, Spencer Fernando published a piece titled "Canada Would Benefit From Having Maverick & PPC MPs In Parliament". This would be hilarious, if not for the fact that people take this man seriously.
Does the author of this article support nuking the CPC in order to bring a real alternative to Canadians? No. He supports having fake parties take a few seats as a way to send a message.
As for the title above, both the PPC (People's Party of Canada), and Maverick (formerly WExit), are fake parties. Neither have constitutions, governing documents, or elect their leaders. As such, they immune from being overtaken by people serious for real change.
Considering how long Fernando has been writing about politics for, it's hard to believe he doesn't know this.
Has he not found it strange that in almost 3 years, Maxime Bernier hasn't bothered with adding even a rudimentary structure to his party? Not strange that EDAs keep getting shut down?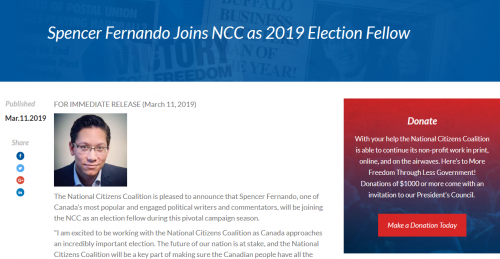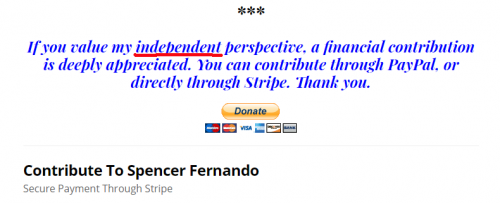 Fernando claims to be offering an "independent" perspective in his publications. That's downright laughable, considering that his organization, the National Citizens Coalition, used to be run by Stephen Harper. The blantant anti-Trudeau bias is evident.
That said, there are times when the NCC takes potshots at "conservative" politicians. This has the effect of making it less obvious of their agenda. And this is one of those times.
In fairness, there are many in the Conservative Inc. media who engage in this sort of behaviour. Included are:
Rebel Media – This outlet calls itself activist, and doesn't even pretend to be neutral. Recently, they were sending out petitions calling for the return of Stephen Harper.
True North Canada – This is a fake charity that used to be the Independent Immigrant Aid Association. It's run by Candice Malcolm and Kasra Nejatian, who used to be staffers for Jason Kenney while he was Multiculturalism Minister.
The Post Millennial – This is run by Jeff Ballingall, who helped get Erin O'Toole and Doug Ford into their current positions. It's owned by Matthew Azrieli, grandson of a late media billionaire, David Azrieli.
Western Standard – This is currently run by ex-Alberta MLA turned fake populist Derek Fildebrant. Admittedly, it does provide some decent coverage on Western issues, but never comes clean on PPC or Maverick.
There are others of course, but those are the big names. None of them address the issue of fake parties in the election landscape.
A section from the article reads:
And that can happen through the election of some Maverick & PPC candidates in the upcoming election.
.
In the West – particularly in ridings where the Liberals have no chance – a win for the Maverick Party would result in electing someone who is conservative, yet not beholden to Erin O'Toole. They certainly wouldn't go along with a Liberal agenda, and would be a voice for fiscal conservatism and policies that support the energy sector.
.
On the PPC side of things, Maxime Bernier has been one of the few politicians in Canada who has spoken out against government's increasingly infringing on our civil liberties – a concern of many Conservatives but one which the CPC itself (with a few notable exceptions like Michelle Rempel Garner & David Sweet – and more subtly Pierre Poilievre), has been reluctant to speak out against.
.
Bernier has certainly been much more consistently 'conservative' than the CPC.
.
For that, it would be good if he got his seat back in Beauce, getting back into Parliament and putting pressure on the Conservatives to actually live up to their ideals.
.
In short, a combination of some Maverick MPs and PPC MPs in Parliament would make it clear to the CPC that they no longer have a monopoly on Conservative voters, that Conservative Canadians have leverage, and they must actually offer something of substance to those they expect support from.
.
Now, notice that I'm not calling for the wholesale defeat of the CPC, as that would be completely counterproductive.
.
The CPC still has many MPs – like Poilievre and Rempel Garner – who have a strong future in Canadian politics and effectively represent major threads of Canadian Conservative thought.
.
On balance, it is still better to elect a CPC MP than a Liberal MP.
First point to note: the author doesn't call for the destruction of the CPC. That is hardly surprising considering that he works for them. He just wants a few MPs elected to "teach them a lesson".
Considering that Conservatives are silent while Trudeau imposes martial law, and "conservative" Premiers do it Provincially, it's bewildering why not call for the removal of all of them. The author engages in mental gymnastics to not condemn them outright.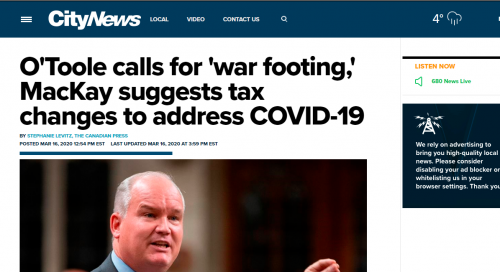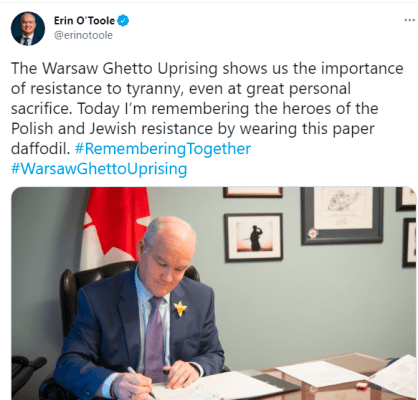 Nothing screams seriousness quite like pandering about resisting tyranny abroad, even as you support it locally. If it's not worthwhile burning the establishment to the ground over this lot, then what exactly will it take?
Second, Rempel has been little more than a shill for vaccines and martial law in Canada. She whines about minor details of implementation, but overall supports the agenda. On a related note: Poilievre is great with the one liners, and is entertaining, but he outside of being comic relief, offers nothing of substance.
Third, there is a a rewriting of history in terms of Bernier. While in Cabinet, he was pro-UN, pro-China, pro-globalized trade, and supported mass economic immigration. He handed out hundreds of millions in corporate welfare, which he now claims to oppose. He voted in 2007 and 2014 for equalization changes that screwed over the West in favour of Quebec. He reinvented himself as a populist only after losing in the CPC leadership race in 2017.
Fourth, Maverick used to be WExit, which openly called for Western separation. Having gained attention, the goalposts shifted, and its new purpose is just to pretend to pander for the interests of those Provinces.
Fifth, considering that Jay Hill is a former MP from Harper's Government, how different would be? He didn't seem to have any issues while in office.
And again, the author completely ignores the fact that both "parties" exist mostly just on paper, and have no structure to keep them alive.
While talking about debts, Fernando NEVER mentions the international banking cartel, which the Conservatives fought in Federal Court to keep intact.
He also addresses the carbon tax, but never gets into the underlying fraud and corruption behind it. Nor does he address the fact that the "challenges" to them were designed to fail.
In terms of nationalism, it is not limited to statues and history, as implied in the article. Canadians don't want the wholescale population replacement that is going on — something conservative politicians fully embrace.
In 2020, Bernier decided to call for a moratorium, at least until there is economic recovery. Then full speed ahead. He spent over a year calling people who wanted real immigration reforms "racists".
Conservative politicians of all stripes endorse the free-trade or outsourcing agenda, which leads to industries being sent overseas in the name of cutting costs.
In the name of unity, it's ignored how incompatible different elements are. Nationalists and social conservatives could theoretically work together. But they have little in common with open borders libertarians and milquetoast cons. They want fundamentally different things.
It's unclear what specific policies the author actually would see from this, other than (perhaps) no carbon tax. Much like Bernier, he remains extremely vague on what real conservatism is. Perhaps it's because he doesn't oppose O'Toole ideologically, just in style.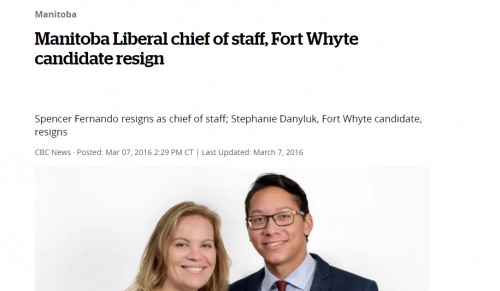 UPDATE TO ARTICLE
Of course, what does Spencer Fernando know about being a "conservative" anyway? Until a few years ago, he was a Chief of Staff for the Manitoba Liberal Leader. Interesting career trajectory, going from Liberal staffer to Conservative writer. But rhetoric aside, they are basically the same parties.