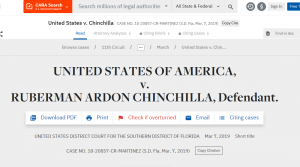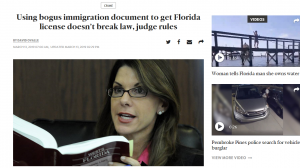 CLICK HERE, for text of the ruling.
CLICK HERE, for media on the subject.
"BETH BLOOM UNITED STATES DISTRICT JUDGE
ORDER DENYING MOTION FOR RECONSIDERATION
THIS CAUSE is before the Court on the Government's Motion for Reconsideration of Dismissal Order ("Motion"), ECF No. [53]. The Court has considered the Motion, the Defendant's Response in Opposition, ECF No. [54], and is otherwise fully advised. For the following reasons, the Motion is denied.
The Government asks the Court to reconsider its ruling dismissing the Superseding Indictment against the Defendant. The Federal Rules of Criminal Procedure do not provide for motions for reconsideration. In ruling on a motion for reconsideration in a criminal case, federal district courts apply civil standards and exercise substantial discretion. See United States v. Sabooni, No. 09-20298-CR, 2014 WL 4385446, at *1 (S.D. Fla. Sept. 4, 2014) (Seitz, J.) (citing United States v. Pugh, 426 F. App'x 876, 876 (11th Cir. 2011)). "The only grounds for granting a motion for reconsideration are newly-discovered evidence or manifest errors of law or fact." Smith v. Ocwen Fin., 488 F. App'x 426, 428 (11th Cir. 2012) (citing Arthur v. King, 500 F.3d 1335, 1343 (11th Cir. 2007)). "A motion for reconsideration should not simply rehash previously litigated issues[.]" United States v. Russo, No. 11-6337-RSR, 2011 WL 3044844, at *1 (S.D. Fla. July 25, 2011) (Rosenbaum, J.); see also Smith, 488 F. App'x at 428 ("A motion for reconsideration cannot be used to relitigate old matters, raise arguments, or present evidence that could have been raised prior to the entry of judgment" (citing Arthur, 500 F.3d at 1343))).
In its Motion, the Government rehashes essentially the same arguments raised in its Response to the Defendant's Motion for Dismissal, during argument at calendar call, and in its Response to Defendant's Supplemental Memorandum. The Government disagrees with the Court's conclusion that the Government has failed to identify any federal statute or regulation prescribing an Order of Supervision as evidence of authorized stay in the United States. Yet the Government fails to point to any new facts or law, demonstrate clear error or manifest injustice, or identify any federal statute or regulation that would require the Court to change its prior finding. Simply put, the Government's arguments amount to "mere disagreement" with the Court and do not warrant reconsideration. See Linet Inc. v. Village of Wellington, Florida, 408 F.3d 757, 763 (11th Cir. 2015) (affirming denial of reconsideration where plaintiff merely "disagreed with the district court's treatment of certain facts and its legal conclusions" in the earlier order under review); see also Roggio v. United States, No. 11-22847-CIV, 2013 WL 11320226, at *1 (S.D. Fla. July 30, 2013) (Goodman, J.).
It appears the Government argues that evidence of authorized employment in the United States necessarily equates to evidence of authorized stay in the United States. However, this argument is not persuasive because Section 1546(a) clearly delineates documents evidencing "authorized stay" and documents evidencing "authorized employment" as two distinct forms of authorization. By equating these two forms of authorization, the Government's interpretation of Section 1546(a) necessarily renders the words "or [authorized] employment" superfluous. See In Re Walter Energy, Inc., 911 F.3d 1121 (11th Cir. 2018) ("[W]e generally construe a statute so that 'no clause, sentence, or word' is rendered superfluous, void, or insignificant." (quoting TRW Inc. v. Andrews, 534 U.S. 19 (2001))). While the Court agrees with the Government that, when amending Section 1546(a) in 1986, Congress intended to broaden the types of documents encompassed by Section 1546(a) beyond those "required for entry into the United States," see ECF No. , the Government's Superseding Indictment did not provide the Defendant notice of any intent to prove that an Order of Supervision is "prescribed by statute or regulation… as evidence of authorized… employment in the United States," ECF No. [22].
---
Accordingly, it is
ORDERED AND ADJUDGED that the Government's Motion for Reconsideration of Dismissal Order, ECF No. [53], is DENIED.
DONE AND ORDERED in Chambers at Miami, Florida, this 7th day of March, 2019.
This is absurd. The driver's license was obtained under false pretenses. Shrugging this off as "procedural" is setting a dangerous precedent. It will be interesting to see if this is appealed.
Hopefully either it is overturned, or the State Congress will enact legislation to prevent this from happening again.