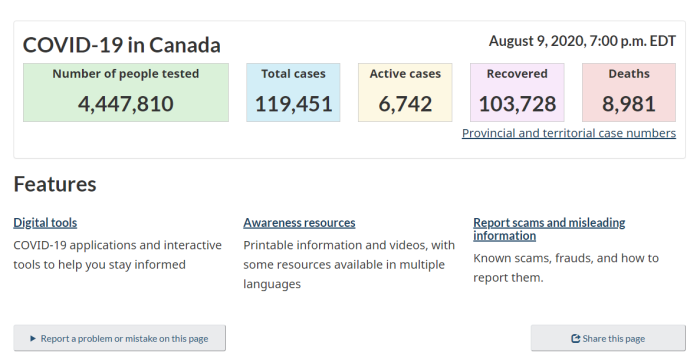 https://www.canada.ca/en/public-health/services/diseases/coronavirus-disease-covid-19.html
This newest coronavirus is deadly and has no cure, hence the global push for a vaccine. This comes despite Health Canada consistently saying the vast majority of people in Canada who contracted it have already recovered.
1. Other Articles On CV "Planned-emic"
For more on the fake "pandemic" that is taking over our lives, check out this series. Information on the: lies, lobbying, conflicts of interest, simulations, globalist interests are available. This is news that the mainstream media will never share.
2. WHO's July 31 Vaccine Research List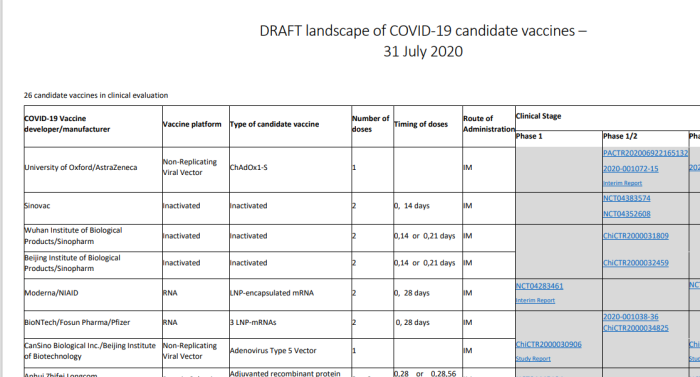 | PLATFORM | TYPE | DEVELOPER |
| --- | --- | --- |
| DNA | DNA Vaccine | Ege University |
| DNA | DNA plasmid vaccine RBD&N | Scancell/University of Nottingham/ Nottingham Trent University |
| DNA | DNA plasmid vaccine S,S1,S2,RBD &N | National Research Centre, Egypt |
| DNA | DNA with electroporation | Karolinska Institute / Cobra Biologics (OPENCORONA Project) |
| DNA | DNA with electroporation | Chula Vaccine Research Center |
| DNA | DNA | Takis/Applied DNA Sciences/Evvivax |
| DNA | Plasmid DNA, Needle-Free Delivery | Immunomic Therapeutics, Inc./EpiVax, Inc./PharmaJet |
| DNA | DNA vaccine | BioNet Asia |
| DNA | msDNA vaccine | Mediphage Bioceuticals/University of Waterloo |
| DNA | DNA vaccine | Entos Pharmaceuticals |
| DNA | bacTRL-Spike | Symvivo |
| RNA | Self-amplifying RNA | Gennova |
| RNA | mRNA | Selcuk University |
| RNA | LNP-mRNA | Translate Bio/Sanofi Pasteur |
| RNA | LNP-mRNA | CanSino Biologics/Precision NanoSystems |
| RNA | LNP-encapsulated mRNA cocktail encoding VLP | Fudan University/ Shanghai JiaoTong University/RNACure Biopharma |
| RNA | LNP-encapsulated mRNA encoding RBD | Fudan University/ Shanghai JiaoTong University/RNACure Biopharma |
| RNA | Replicating Defective SARS-CoV-2 derived RNAs | Centro Nacional Biotecnología (CNB-CSIC), Spain |
| RNA | LNP-encapsulated mRNA | University of Tokyo/ Daiichi-Sankyo |
| RNA | Liposome-encapsulated mRNA | BIOCAD |
| RNA | Several mRNA candidates | RNAimmune, Inc. |
| RNA | mRNA | FBRI SRC VB VECTOR, Rospotrebnadzor, Koltsovo |
| RNA | mRNA | China CDC/Tongji University/Stermina |
| RNA | LNP-mRNA | Chula Vaccine Research Center/University of Pennsylvania |
| RNA | mRNA in an intranasal delivery system | eTheRNA |
| RNA | mRNA | Greenlight Biosciences |
| RNA | mRNA | IDIBAPS-Hospital Clinic, Spain |
This is by no means everyone on the list. Still, it should give people a cause for concern, just how widespread this vaccine research is.
DISCLAIMER:
These landscape documents have been prepared by the World Health Organization (WHO) for information purposes only concerning the 2019-2020 pandemic of the novel coronavirus. Inclusion of any particular product or entity in any of these landscape documents does not constitute, and shall not be deemed or construed as, any approval or endorsement by WHO of such product or entity (or any of its businesses or activities). While WHO takes reasonable steps to verify the accuracy of the information presented in these landscape documents, WHO does not make any (and hereby disclaims all) representations and warranties regarding the accuracy, completeness, fitness for a particular purpose (including any of the aforementioned purposes), quality, safety, efficacy, merchantability and/or non-infringement of any information provided in these landscape documents and/or of any of the products referenced therein. WHO also disclaims any and all liability or responsibility whatsoever for any death, disability, injury, suffering, loss, damage or other prejudice of any kind that may arise from or in connection with the procurement, distribution or use of any product included in any of these landscape documents.
Just so you know, the World Health Organization makes absolutely no guarantees that any of these products are safe, let alone that they work. Take at your own risk.
But don't worry. Why should we have any reason to doubt the experts at the World Health Organization? After all, our local experts are reliable and trustworthy. And our politicians certainly have our best interests at heart, right?
3. Gates: "Super Painful" Is Not Serious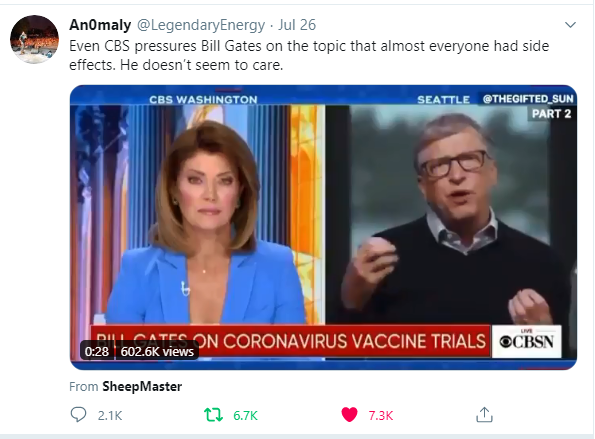 https://twitter.com/LegendaryEnergy/status/1287509508206391296
Gates told CBS in a rather indifferent way that reactions that are "super painful" are not serious. He doesn't appear to give a damn how the Moderna trials have gone. This is from July 26.
4. Trudeau & Premiers Are Parroting Gates
(Bill Gates predicts no more mass gathering until vaccine developed.

(See 1:30 mark in this, or original video)

Okay, so it seems like they are all pushing the agenda for mass vaccination. But at least major decisions are being made based on solid medical and scientific research, right? At least we can have confidence in what our leaders are telling us about this pandemic. Granted these are earlier videos, but still, creepy to watch.
5. Barbara Yaffe Admits 50% Test Error Rate
https://www.youtube.com/watch?v=RMT_AUAj_go
https://www.youtube.com/watch?v=Jk7s6SRBOlI
Ontario's Deputy Medical Officer Barbara Yaffe admits that there is up to a 50% error in the testing method that is being used. Obvious question: why are we using such a method when the results are so unreliable? Premier Doug Ford, even when called out, won't give any sort of explanation.
6. Christine Elliott Admits Lying About C.O.D.
https://www.youtube.com/watch?v=wwwHBpIHEpM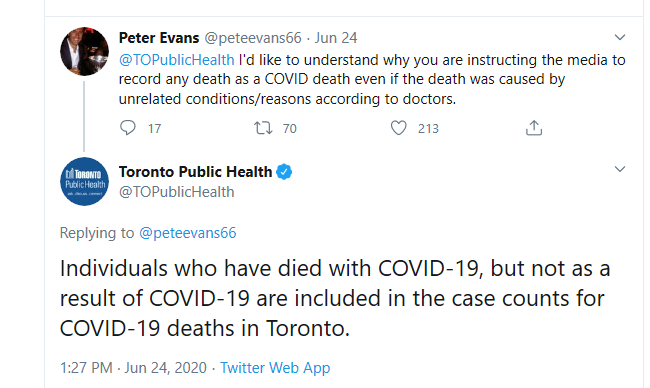 Health Minister Christine Elliott admits that people who die for reasons unrelated to CV are still being written up as CV deaths. This is deceptive and manipulative. And it seems that Toronto Public Health is no better when it comes to being transparent.
7. WHO's Mask Recommendation Is Political
https://www.youtube.com/watch?v=SwiwBMfotto
Also see this and this accompanying articles. The mask recommendations are completely political, and have no medical or scientific basis to them.
8. Bonnie Henry: No Science In What We Do
https://www.youtube.com/watch?v=2QCM-Q_ZaUs
BC Provincial Health Officer Bonnie Henry repeatedly says there is no science in what they do. This video specifically referred to capping group sizes at 50 people, but the same sentiment can be applied more broadly. See the 1:00 mark in the video.