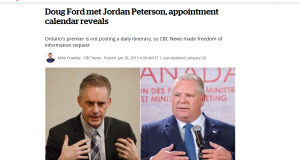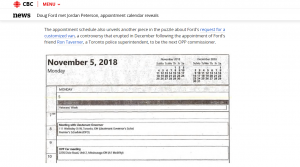 (Not entirely sure why this is controversial)
CBC, a.k.a The "Communist Broadbasting Corporation", or the "Caliphate Broadcasting Corporation", is a government funded "news" organization. It receives about $1.5 billion annually to spew out anti-Canadian stories. Taxpayers don't get a say in the matter.
CLICK HERE, to reach the CBC Propaganda Masterlist. It is far from complete, but being added to regularly.
Spoiler alert: This article starts off by talking about University of Toronto Professor Jordan Peterson, and then meanders to entirely different topics. Seems that CBC couldn't be bothered to ensure that there actually was a point to it. Even high school editors would perform better. Anyway….
"Ontario Premier Doug Ford held a one-on-one meeting with Jordan Peterson a week after the controversial university professor publicly urged Ford to abolish the province's human rights commission, CBC News has learned. "
This actually is true. Peterson is a vocal advocate against Bill C-16, which not only added "gender identity or expression" to the Canadian Criminal Code and Human Rights Codes, but also resulted in "compelled speech". However, not sure why this is controversial.
"The meeting was revealed in Ford's appointment calendar for October and November, obtained through a freedom of information request. CBC News made the request because Ford is not providing the media with his daily public itinerary, breaking from the practice of previous premiers."
Premier Ford doesn't think too highly of the media, a trait shared by US President Donald Trump. Given this attitude, by Unifor, the union that represents media workers, who can blame Ford?
"CBC News cannot find any record of Ford or Peterson publicly mentioning that their Oct. 18 meeting took place.
.
Ford tweeted about several of his other private meetings around that date: with Dianne Martin, CEO of the Registered Practical Nurses Association, with Susan Le Jeune the British high commissioner to Canada, and with Tim Hudak, the former PC leader who is now CEO of the Ontario Real Estate Association.
.
Ford met with Peterson "to discuss free speech on Ontario's university and college campuses," the premier's press secretary said Friday in an email to CBC News.
.
The meeting followed this Oct. 10 tweet by Peterson, calling for the Human Rights Commission to be abolished."
Yes, Peterson has called for the Human Rights Commissions to be abolished. However, there is a valid reason for this: namely that these Tribunals do not uphold any human rights. They are a means to grandstand and impose absurd rulings and consequences. See this, an earlier article on the Human Rights Tribunals.
Still am not clear why it would be so controversial to at least have a meeting with a well known advocate for open inquiry and free speech.
"Peterson has garnered international attention for his critique of what he calls "politically correct" limits to free speech. The Ford government ordered Ontario's universities and colleges last summer to put in place policies by the end of 2018 guaranteeing free speech, or they would face funding cuts."
True, but so what? Universities are supposed to hold open inquiry dear. Sadly, a move like this was long overdue.
""I know something about the way that totalitarian and authoritarian political states develop and I can't help but think that I'm seeing a fair bit of that right now," Peterson said in a lecture posted to his YouTube channel, which has 1.8 million subscribers.
.
Ford's calendar for October and November shows no one-on-one meetings with any other Ontario university professors. Peterson and his publicity firm did not respond to a request for an interview or to emailed questions about the meeting."
Seeing the language policing that goes on in schools, these comments are fitting.
The remaining 60% of the article has nothing to do with Peterson, nor is it tied back in any way. Seems that CBC never bothered to do any proofreading prior to publication.