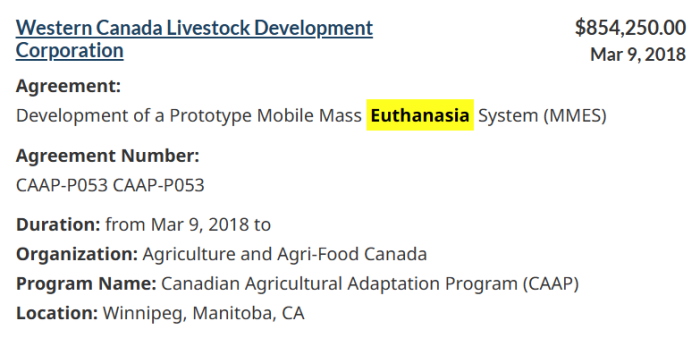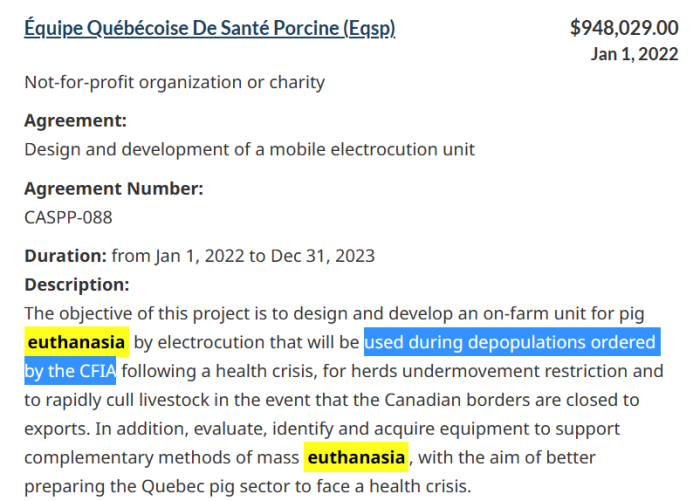 Searching through Government archives can often lead to some interesting finds. One such result is that we have apparently been handing out taxpayer money to develop euthanasia systems. These are said to be done to prevent the spreading of diseases.
Now, there are only a few listed on this site, but it's certainly worth a look.
| NAME | DATE | AMOUNT |
| --- | --- | --- |
| Catch Data Ltd. | May 9, 2022 | $100,000.00 |
| Équipe Québécoise De Santé Porcine (Eqsp) | Jan 1, 2022 | $948,029.00 |
| Western Canada Livestock Development Corporation | Mar 9, 2018 | $854,250.00 |
| Western Canada Livestock Development Corporation | Sep 1, 2019 | $235,125.00 |
According to the program purpose from Agriculture and Agri-Food Canada:
Funding to facilitate the agriculture, agri-food and agri-based products sector's ability to seize opportunities, to respond to new and emerging issues and to pathfind and pilot solutions to new and ongoing issues in order to help it adapt and remain competitive.
Équipe Québécoise De Santé Porcine has a somewhat different agenda, explained as:
The objective of this project is to design and develop an on-farm unit for pig euthanasia by electrocution that will be used during depopulations ordered by the CFIA following a health crisis, for herds undermovement restriction and to rapidly cull livestock in the event that the Canadian borders are closed to exports. In addition, evaluate, identify and acquire equipment to support complementary methods of mass euthanasia, with the aim of better preparing the Quebec pig sector to face a health crisis.
CIFA is, of course, the Canadian Food Inspection Agency. That's very interesting. Supposedly, we need to design systems to mass euthanize pigs, in the event of some upcoming health crisis. Has it already been determined?
Catch Data Ltd.'s agenda, and funded by the National Research Council, is
Development of an automated, connected, adaptive, and self-resetting mechanical cervical dislocation euthanasia system for rodents
This is a euthanasia system that kills by dislocating the spine from the brain. It's supposed to be very quick. Of course, what's to stop this from being scaled up to target larger animals? It can't just be about the rodents. Is disease prevention really the goal?
It could be that all of this is well meaning and benevolent. Then again, this could be developing systems to wipe out parts of the food supply under the guise of "public health". Who knows?
(1) https://search.open.canada.ca/grants/?sort=agreement_start_date+desc&page=1&search_text=euthanasia
(2) https://search.open.canada.ca/grants/record/nrc-cnrc,172-2022-2023-Q1-990927,current
(3) https://search.open.canada.ca/grants/record/aafc-aac,235-2021-2022-Q4-00130,current
(4) https://search.open.canada.ca/grants/record/aafc-aac,235-2019-2020-Q4-00032,current
(5) https://search.open.canada.ca/grants/record/aafc-aac,GC-2017-Q4-00046,current
HOLODOMOR, FOOD SHORTAGES
(A) Cricket Production Subsidies, Aspire Food Group
(B) Subsidizing Plant-Based Industry To Replace Meat
(C) Manufactured Food Shortages, Or Just a Coincidence?
(D) NACIA, Global Markets For Insect Consumption, Alternative Protein, Agenda 2030
(E) World Circular Economy Forum, Related Groups, Manufactured Shortages
(F) Private Member's Bill C-293: Domestic Implementation Of Pandemic Treaty