(Original Liberal Burnaby South candidate, Karen Wang)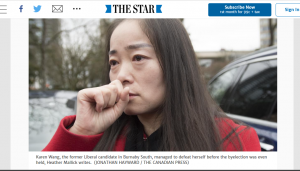 (Posted on HuffPost, Liberal Candidate Richard Lee)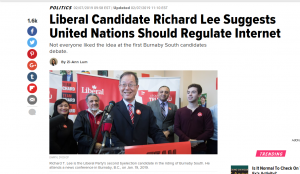 https://www.youtube.com/watch?v=t_hCHQnwjW0
(Debate highlight clips, see 7:25)
CLICK HERE, for the Huffington Post article.
There is a Federal by-election scheduled for February 25, 2019.
One of the ridings is Burnaby South, BC
The Liberal candidate, Richard Lee, when asked about internet regulation, openly suggested that the United Nations should regulate internet use. The crowd booed.
A Liberal MP (candidate) openly proposing regulating and controlling internet content
Interestingly, Lee is the second candidate for the Liberals in the byelection. Karen Wang was forced to step down after making a blatantly racial appeal. Wang is of Chinese descent, as is about 1/3 of the riding. She advocated only voting for her, rather than the NDP leader Jagmeet Singh, who is of East Indian descent. See this article.
Open racial identity politics, UN censorship and internet regulation.
What a time to be alive.