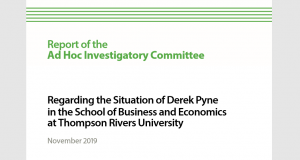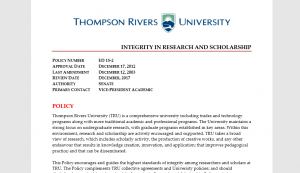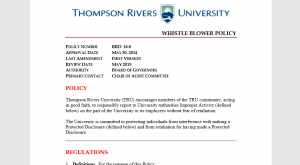 1. Important Links
CLICK HERE, for Part I, the paper and backstory.
CLICK HERE, for Part II, the Pyne interview.
CLICK HERE, for Part III, TRU responds in case.
CLICK HERE, for the Ad Hoc Investigatory Committee report.
2. Context Of Followup
In 2017, Professor Pyne released a research report on so-called "predatory publishing". In it, he details how academics publish in journals that are not peer reviewed, and who make little if any effort to verify the findings.
Although the report did not drop specific names, it was not well received by Thompson Rivers University. In a sense this was understandable, as it is not a topic that most people wish to address. Professor Pyne claims that this led to the atmosphere at the school changing, and to his eventual suspension.
Regardless of how touchy the topic may be, this was the wrong way to handle it. Truth should never be censored just because it is inconvenient or embarrassing.
This topic was originally covered early this year. However, since then the Committee investigating the case has ruled that Professor Pyne's rights were violated.
3. From Ad Hoc Investigative Comm Report
Our investigation has found the following:
1. Based on the evidence presented to the Committee, TRU appears to suffer a broad institutional weakness when it comes to understanding academic freedom beyond its narrow application to support faculty members' freedom to pursue what they expect to be fruitful avenues of research and publish their results.
2. There were significant breaches of Dr. Pyne's academic freedom with respect to the Administration's responses to his intramural and extramural communications criticizing the School of Business and Economics, its programs, and its faculty. These breaches arose from the failure to properly consider Dr. Pyne's academic freedom, which is encoded in the collective agreement governing his employment at TRU, in managing workplace complaints against Dr. Pyne.
3. The collective agreement between the University and its faculty association contains an article on academic freedom that creates a positive obligation on the parties to consider academic freedom in any case involving speech and other communications from faculty members. The failure to consider Dr. Pyne's academic freedom in human resources processes has had the effect of denying Dr. Pyne access to procedural fairness, and hence the decision to suspend him was not made on a sound basis.
4. There is no evidence that any person at TRU attempted to interfere with Dr. Pyne as he carried out his study into publishing in predatory journals.
5. Dr. Pyne's privacy was breached by both TRU and TRUFA on multiple occasions.
Point #3, the school was found to be lacking in having a strong understanding of its academic freedom obligations.
About point #4, that is true, though it doesn't appear that the school knew what was happening as the research was being done. As no live subjects were used, no ethics approval was needed.
Point #5 concerned leaking of personal information which Professor Pyne believes was done deliberately.
There is a differentiation between open access publishing and so-called predatory publishing that is often over-looked. Open access publishing relies on the same processes as traditional publishing, including rigorous peer review, whereas predatory publishing does not and attempts to co-opt the open access model for financial gain. In an increasingly complex arena for publishing research, universities and academics grapple with assessing faculty members' published research for tenure and promotion, and for various institutional benefits, including salary increases and research awards. Academic librarians have long provided their expertise in identifying scholarly resources and are now assisting researchers in identifying which constitute legitimate open access publishing and which do not. There is a clear need for universities to ensure the integrity of their academic decisions for tenure and promotion, in particular, by having policies that differentiate between legitimate and predatory publishing.
Dr. Pyne's research on the rewards of publishing in predatory journals has raised questions about the way his own colleagues and institution are managing the complexity of publishing research at a time when there is a growing number of journals with questionable peer review practices. These questions go to the heart of the credibility of TRU, and one would expect them to be taken seriously by the university's senior administration. Even if one wishes to critique Dr. Pyne's published results – as would be expected as part of a robust scholarly discourse – it seems irresponsible for the Administration to ignore the issues his work raises for TRU, which include whether the fundamental academic judgments involved in tenure and promotion decisions are being made on a sound basis.
The only evidence the Committee has seen of any discussion of the issue of predatory journals is related to the TRU Senate discussion of a motion put forward by a faculty senator in April 2017 to refer the matter to the Senate Tenure and Promotion Committee, which is chaired by the Provost. The matter seems to be still with this Committee, which appears not to have made any reports to Senate since then.
It is the Committee's opinion that the apparent failure of TRU's Administration to consider seriously the issue of publishing in predatory journals and its potential impacts on TRU's core academic decisions represents a profound failure of academic governance at the university
Again, read the whole report for a more thorough reply.
An interesting point is raised: even if one has issues with the topic being raised, the way it was handled was completely wrong.
Beyond that, the report on predatory publishing raises very valid concerns. Academics should be concerned about the quality of the screening that is done of their research. Predatory publishes may reward professors with money or more status for work that by all rights should have been rejected. Academia can be a vicious place. In fact, shedding light on this could be viewed as investigative journalism.
Finally, retaliation (no matter how subtle) creates a chilling effect for everyone. What topics are now off limits? Who will be next? Is this really where we want to go with free speech?
4. Comments From Professor Pyne
1/ What exactly did the ruling say?
-TRU and TRUFA violated academic freedom
-Committee tries not to attribute motives to people
-TRU lacks strong policies in academic freedom
-TRU violated privacy laws by leaking confidential information
-TRU should pay wages lost during suspension
2/ Can or will TRU appeal?
-TRU refused to participate in the process, so not likely
-There have been claims of defamation, even though people were not named in the paper
3/ What has changed since this case happened?
-I've had my office transferred elsewhere
-People were unhappy with some Facebook postings I made
-The issue still isn't sitting well with people
4/ Do you think it will make a difference at TRU?
-No, it doesn't seem to have
Committee has been hand picked by the President
-They say that they have not been provided with all the information, but won't say what they don't have
5/ What would you say to people concerned about academic freedom?
-It's an important cause
-There are a lot of hoops to jump through
-Check out the Society for Academic Freedom