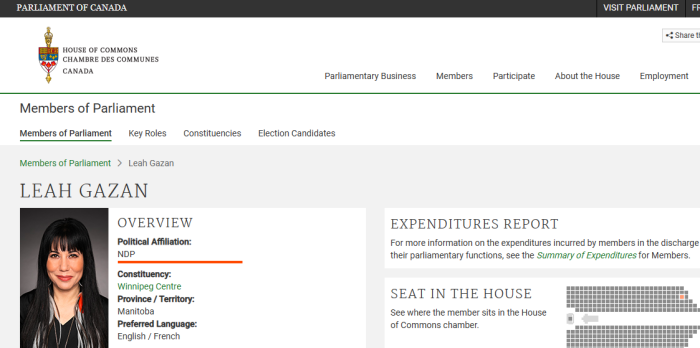 Apparently, March 10th is "Abortion Providers Appreciation Day" in Canada. With all the various holidays and recognitions, this is easy enough to miss.
Anyhow, N.D.P. Member of Parliament Leah Gazan used her time on the floor to ask an interesting question: will the Prime Minister keep his promise to revoke the charity status of groups promoting abortion? Yes, she demands that groups she ideologically disagrees with to be hit financially.
Recently, Gazan went on record calling for a ban on "Residential School Denialism". This would make it illegal to deny that genocide happened at those places. Just getting it classified as genocide wasn't enough, she wants to silence critics.
Gazan doesn't seem to see any ideological contradiction here: she wants to silence critics who deny that genocide happened at Residential Schools. She also supports financially crippling organizations who speak out against abortion, something that hits Indigenous communities hard.
It's interesting when politicians speak out about violence towards women and minorities, but support the kinds of policies that harm exactly those demographics.
The "conservative" position in Canada is to support abortion in general, but to oppose ones that are "sex-selective". In other words, it's okay to terminate children, as long as it's done indiscriminently.
There has also been little in the way of opposition to Bill C-250, a Private Member's Bill that would put Holocaust deniers in prison for up to 2 years. That was later slipped into a Budget Bill, and is now law.
PULLING CHARITY STATUS FOR PRO-LIFE GROUPS:
(1) https://twitter.com/LeahGazan/status/1634235734717546500
MOVE TO BAN "RESIDENTIAL SCHOOL DENIALISM:
(1) https://www.ourcommons.ca/Members/en/Leah-Gazan(87121)
(2) https://twitter.com/LeahGazan/status/1585726302044229632
(3) https://www.cbc.ca/news/politics/should-residential-school-denialism-declared-hate-speech-1.6744100
(4) https://twitter.com/CityNewsTO/status/1628425241717538816
(6) https://toronto.citynews.ca/2023/02/22/red-dress-alert-for-missing-indigenous-women/
(7) https://www.cbc.ca/news/politics/house-motion-recognize-genocide-1.6632450
(8) https://www.parl.ca/legisinfo/en/bill/44-1/c-223
(9) https://www.parl.ca/legisinfo/en/bill/43-1/c-232
(10) https://www.parl.ca/legisinfo/en/bill/43-2/c-232
(11) https://twitter.com/LeahGazan/status/1630956370244542464
HOLOCAUST DENIAL PUNISHABLE BY PRISON TIME:
(1) https://www.parl.ca/legisinfo/en/bills
(2) https://www.parl.ca/legisinfo/en/bill/44-1/c-19
(3) https://www.parl.ca/DocumentViewer/en/44-1/bill/C-19/third-reading
(4) https://www.parl.ca/legisinfo/en/bill/44-1/c-250
(5) https://www.ourcommons.ca/Members/en/kevin-waugh(89084)
(6) https://lobbycanada.gc.ca/app/secure/ocl/lrs/do/cmmLgPblcVw?comlogId=521753
(7) https://lobbycanada.gc.ca/app/secure/ocl/lrs/do/vwRg?cno=111&regId=917368&blnk=1
(8) https://twitter.com/Paulatics/status/1537078472820006915
(9) https://sencanada.ca/en/senators/simons-paula/interventions/581135/47#hID
(10) https://www.youtube.com/watch?v=7iNiV2uAsQg&feature=youtu.be