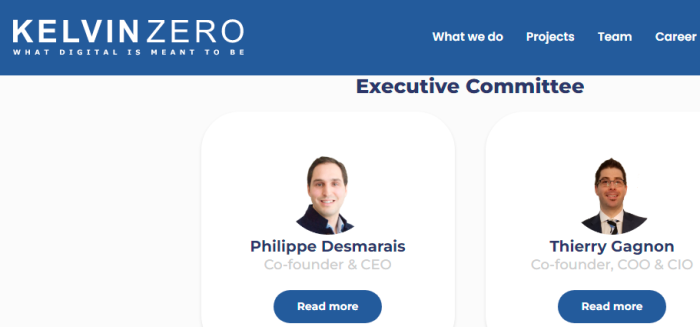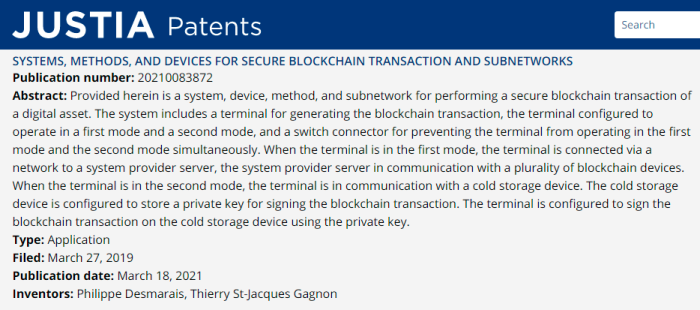 Publication number: 20210083872
Abstract: Provided herein is a system, device, method, and subnetwork for performing a secure blockchain transaction of a digital asset. The system includes a terminal for generating the blockchain transaction, the terminal configured to operate in a first mode and a second mode, and a switch connector for preventing the terminal from operating in the first mode and the second mode simultaneously. When the terminal is in the first mode, the terminal is connected via a network to a system provider server, the system provider server in communication with a plurality of blockchain devices. When the terminal is in the second mode, the terminal is in communication with a cold storage device. The cold storage device is configured to store a private key for signing the blockchain transaction. The terminal is configured to sign the blockchain transaction on the cold storage device using the private key.
Type: Application
Filed: March 27, 2019
Publication date: March 18, 2021
Inventors: Philippe Desmarais, Thierry St-Jacques Gagnon
The above is a description of a patent to make electronic transfers more secure, and less vulnerable to outside attacks. It outlines a number of security features for identity verification, and to ensure the money gets to its intended targets.
Philippe Desmarais, Thierry St-Jacques Gagnon are the co-Founders of Kelvin Zero. In 2019, they filed a patent application for a blockchain application for digital asset transfers. While this is interesting, this hasn't really been all their efforts, as the company has been subsidized by taxpayer money. The National Research Council has been handing out grants to fund this kind of technology.
Desmarais is also a Board Member at IX Investing. The name is also a curious one, as many readers will be familiar with the Desmarais Family, who owns Power Corporation and most Canadian politicians.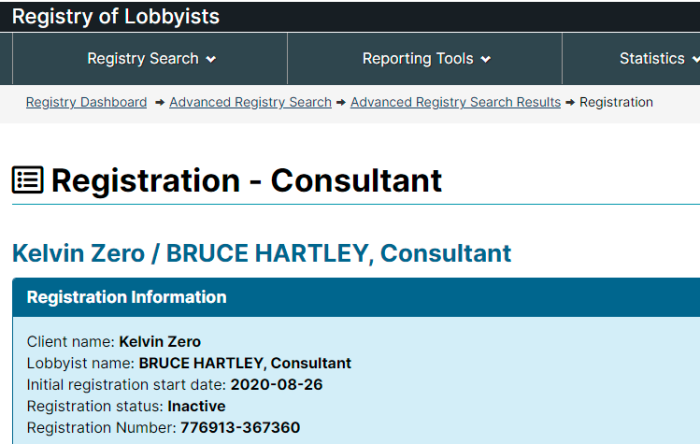 The Federal Lobbying Registry provides some information on the money that had been given out during the period of the lobbying and solicitation. Other databases have overlapping results.
| GOVERNMENT DEPARTMENT | YEAR | MONEY |
| --- | --- | --- |
| Canada Mortgage and Housing Corporation (CMHC) | 2020 | $41,359 |
| Canada Revenue Agency (CRA) | 2020 | $23,375 |
| Information and Communications Technology Council of Canada | 2020 | $20,000 |
| Information Technology Association of Canada | 2020 | $32,500 |
| Investissement Québec | 2020 | $63,364 |
| National Research Council (NRC) | 2020 | $178,720 |
Kelvin Zero has been lobbying for the last while in order to secure taxpayer funding for its various initiatives. This is hardly surprising. The grants handed out in 2021 should be publicly available soon.
Bruce Hartley is also an interesting choice to use as the lobbyist. He spent a decade working for Jean Chretien. He was also one of the lobbyist (along with William Pristanski) which got SNC Lavalin their deferred prosecution.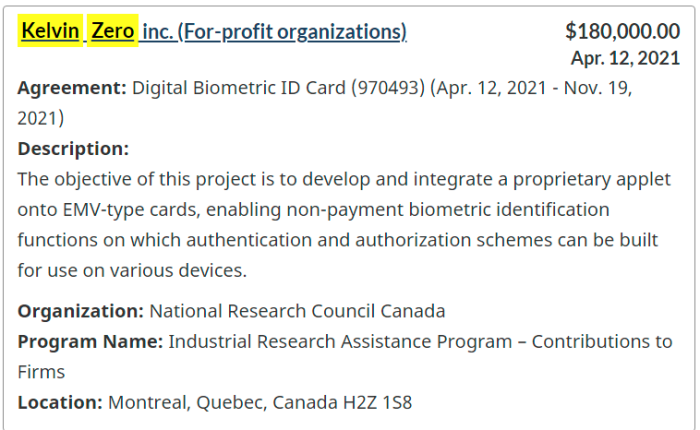 | DATE | AGREEMENT | AMOUNT OF MONEY |
| --- | --- | --- |
| Apr. 1, 2020 | Innovation Assistance Program | $81,312 |
| Jun. 25, 2020 | Innovation Assistance Program | $97,408 |
| Oct. 12, 2020 | European GVC/MNE access support | $30,000 |
| Dec. 20, 2020 | Innovation Assistance Program | $70,449 |
| Apr. 12, 2021 | Digital Biometric ID Card | $180,000 |
Kelvin Zero received several grants from the Federal Government in the last few years. This is information available from Open Search Canada. Perhaps the most interesting of which was the Biometric ID Program.
This project will help Kelvin Zero develop the technology behind its biometric access card system, MULTI-PASSTM. MULTI-PASS is a global, unique digital wallet that organizations and their users can use to process secure data, identity, and access validations over near-field communication (NFC) technology.
Kelvin also describes their project as a way to "validate identity without ever accessing it". The stated rationale is that if the identity isn't accessed, then it's not at risk for being compromised. The company is also working on developing a "universal digital wallet".
Kelvin is also part of the Thales Accelerate Partner Network. According to records from the Canada Revenue Agency, Thales Digital Solutions has been receiving the Canada Emergency Wage Subsidy.
(1) https://kzero.com/en/team
(2) https://patents.justia.com/inventor/philippe-desmarais
(3) https://www.ix-investments.com/our-board/philippe-desmarais/
(4) https://lobbycanada.gc.ca/app/secure/ocl/lrs/do/vwRg?cno=367360&regId=905576#regStart
(5) https://www.linkedin.com/in/philippe-desmarais-b695a3126/
(6) https://search.open.canada.ca/en/gc/
(7) https://kzero.com/en/news/kelvin-zero-selected-for-a-biometric-card-r-d-project
(8) https://kzero.com/en/what-we-do
(9) https://apps.cra-arc.gc.ca/ebci/hacc/cews/srch/pub/bscSrch