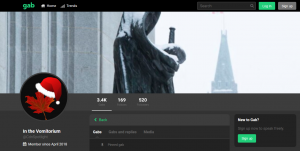 Another researcher getting into the muck and filth that is the Canadian Government and administration. Here is some of the work unearthed and exposed. Worth a good long read, for anyone who is truly concerned about the future of the nation. Here are just a few of the postings. Go check out more.
CLICK HERE, for the Gab account where this research can be found.
1. Dominic Barton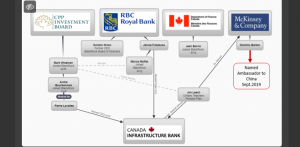 CANADA'S DEEP STATE
What began with a negative news article about Dominic Barton becoming our new ambassador to China in Sept. got me curious so I started digging.
And what I've been finding is alarming.
It is much, much larger than just lowly ol' Barton as the pic shows.
The tentacles are far-reaching and the Canadian players involved are so intertwined that it'll cause some 'splodey heads like mine.
So please bear with me as I try to explain this in my series/threads.
So let me start with the article that started it all:
Terence Corcoran: Dominic Barton could be the right man for China … if he remembers what makes Canada work:
Barton's admiration and support of China's statist economic ideas, and his frequently stated disdain for market capitalism, certainly give one reason to pause – Sept. 2019
CLICK HERE for an article on the subject.
Read every word of that article, it briefly describes Barton's "philosophy" & ideology
"China as the world's leading practitioner of state corporatism. Barton thinks the Communist Party of China has developed some fantastic economic models that might even be exportable to the rest of the world, including Canada.
Barton and McKinsey, for example, have been enthusiastic backers of China's Belt and Road Initiative (BRI), a massive global infrastructure scheme
the One Belt, One Road (OBOR) infrastructure initiative, the project was described by Barton in 2015 as "inspiring" and a model for "long-term thinking" with infrastructure spending as the foundation for economic growth.
China's Belt/Road model, suggests Barton, is the way of the future. "The Chinese saying 'build a road first if you want to get rich' is spot on — data suggests that for every $1 billion in infrastructure investment, 30,000 to 80,000 jobs are created, generating $2.5 billion in new GDP."
In my humble opinion, this is where Canada's headed…
2. CPPIB, Blackrock, Mark Wiseman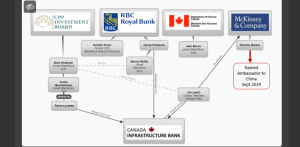 CANADA'S DEEP STATE Part 2
Now that ambassador Dominic Barton has been identified as the architect, let's look at some of his buddies and their connections with BlackRock and Canada Pension Plan Investment Board (CPPIB)
Born in Niagara Falls Ontario, Mark Wiseman became a Senior Managing Director at BlackRock NYC in 2016 as Global Head of Active Equities for BlackRock and Chairman of BlackRock Alternative Investors. He also serves as Chairman of the firm's Global Investment Committee and on its Global Executive Committee.
He was President and CEO of the Canada Pension Plan Investment Board (CPPIB) 2012-2016 after starting there in 2005 as Senior Vice-President, Private Investments.
Prior to joining CPPIB, Mark was responsible for the private equity fund and co-investment program at the Ontario Teachers' Pension Plan. He has worked at Harrowston Inc., a publicly traded Canadian merchant bank, and as a lawyer with Sullivan & Cromwell, where he practiced in New York and Paris.
He also served as a law clerk to Madam Justice Beverley McLachlin at the Supreme Court of Canada – ring a bell? During the Justice Committee hearings with Jody Wilson-Raybould about the SNC-Lavalin Scandal, Buttsputin & Clerk of the Privy Council had insisted Jody talk with her for "advice".
But the BlackRock ties don't stop there.
BlackRock Canada CEO is Marcia Moffat since 2015– who just happens to be Mark Wiseman's wife – based in Toronto. Mark returns home to Toronto on weekends from New York. She was formerly with RBC under Janice Fukakusa (see pic)
Wiseman is also the Chairman of FCLTGlobal (formerly Focusing Capital on the Long Term), an organization that encourages longer-term approaches in business and investing, which was set up by BlackRock, CPPIB, Dow, McKinsey & Company and Tata in 2016.
Mark is also a member of the Advisory Council on Economic Growth, which advises Finance Minister MORNEAU on economic policies to achieve long-term, sustainable growth. Mark serves on the boards of several non-profit organizations, including Sinai Health Services in Toronto, the Capital Markets Institute and the Dean's Advisory Board at the Rotman School of Management, University of Toronto.
At CPPIB, Wiseman made a name for himself by opening offices and pursuing investments abroad, particularly in South America and South Asia.
CPP investment chief Mark Wiseman to make surprise exit after nearly four years at helm.
While the one source characterized his departure as amicable, another source familiar with CPPIB's inner workings said there was friction on leadership issues.
"…some questioned whether it was only the CPP's interests that were being promoted" His years as CEO at CPPIB have been marked by a stream of deals, ranging from a lucrative early investment in Chinese e-commerce company Alibaba.
In 2015 – Why the head of Canada's biggest pension fund is bullish on energy.
Mark Wiseman says CPPIB is looking at a range of investments from buying equity and partnering on acquisitions to outright takeovers
Mark Wiseman, who runs Canada's biggest pension fund, offered the Davos crowd last week a two-pronged argument on why he's bullish on energy assets after the recent plunge in oil prices.
Wiseman said that simple supply and demand perspective all but guarantees oil prices will be higher 10 years down the road, offering investment opportunities now for the $234 billion fund. "I'll take that bet" on oil's rebound, he said in an interview Tuesday at Bloomberg's Toronto office.
"We see a lot of value in the Western Canadian basin," he said, noting that oil sands projects are on his radar.
"WE LIKE COMPANIES THAT HAVE GOOD UNDERLYING ASSETS AND BAD BALANCE SHEETS. That's the perfect scenario for us."
–> premonition?
He encouraged the Canadian federal and provincial governments to look to jurisdictions like Australia, where state governments are given incentives to invest in infrastructure and court outside funding.
In the meantime, Canada Pension is looking to places like China, India and Brazil.
3. Willy Porneau's Advisory Council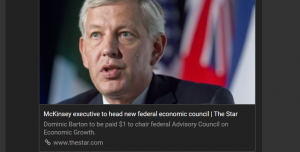 Let's take a look at how quickly the Liberals put Deep State into play.
Willy Porno (Morneau) and his new Dream Team – the Advisory Council on Economic Growth.
Less than 2 months after the 2015 federal election, Willy Porno announces the new Advisory Council in his speech to the Toronto Region Board of Trade.
This was obviously planned long before the election.
CPAC December 14, 2015 – Bill Morneau – Keynote Speech
Finance Minister Bill Morneau addresses the Toronto Region Board of Trade, discussing the government's strategy for supporting the middle class and long-term economic growth in Canada, including a plan to create an advisory council for economic growth. Following his speech, Morneau responds to questions from the board.
You should see this, and also see this.
A month later, the Crime Minister is at the World Economic Forum in Davos, with Dominic Barton:
"I would bet that almost all of you have Canadians in leadership positions in your companies—you may not know it because we don't often shout it from the rooftops, some clichés about Canadians are true. In fact, at least half of you have hired Dominic Barton at one point or another."
While in Davos, PMJT met with many high rollers – Microsoft CEO Natya Nadella, Facebook COO Sheryl Sandberg,
and billionaire George Soros, whose interests include combating climate change.
Then on Feb.22, 2016 Willy Porno announced Barton as Chair of the Council:
This article references the earlier ties Barton had to Wiseman by creating Focusing Capital on the Long Term (FCLT) Global in 2013 – board of directors include Larry Fink CEO BlackRock NYC – Wiseman's future boss in 3 short years.
McKinsey executive to head new federal economic council.
4. Canada Infrastructure Bank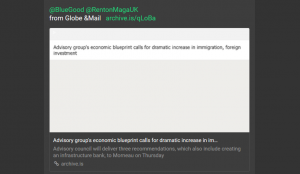 Canada's Deep State Part 4 – Canada Infrastructure Bank
The Canada infrastructure Bank (CIB) has been steeped in controversy since it was first proposed.
The Liberal's 2015 election promise was to provide low-cost financing to municipalities for infrastructure projects, as a vehicle for Ottawa to use its strong credit rating and lending authority to help municipalities reduce their cost of borrowing.
The Liberal plans evolved considerably since the party first promised an infrastructure bank during that election campaign – there was no mention of attracting private capital. The role of the proposed Canadian Infrastructure Development Bank was to attract financing from institutional investors to fund projects over the next 10 years as a Crown corporation.
Dominic Barton and Michael Sabia sketched out the infrastructure bank idea at the Public Policy Forum summit in Oct. 2016, a more ambitious plan in which the bank would gather and prioritize large projects that could earn revenue, such as electrical networks, and that attract billions in added international investment.
Sounds an awful lot like McKinsey's "for-profit public-sector work" and advising governments.
The proposal to entice global pension funds into major Canadian investments goes far beyond anything promised to date by the federal Liberals, but Finance Minister Bill Morneau – who worked directly with the panel over the past several months – signalled a strong openness to the recommendations announced Thursday.
However, the panel's 14 members include leaders of some of those institutional investors, including Mark Wiseman, senior managing director of BlackRock Inc., and Michael Sabia, CEO of the Caisse de dépôt et placement du Québec pension fund.
Examples of potential projects listed… include toll highways and bridges, high-speed rail, port and airport expansions, city infrastructure, national broadband infrastructure, power transmission and natural resource infrastructure.
PM hopes to attract billions in private capital for infrastructure
Trudeau takes his foreign-investment agenda to investors, two weeks after announcing an infrastructure bank.
He will be accompanied by nine members of cabinet, including Finance Minister Bill Morneau, Infrastructure Minister Amarjeet Sohi, Transport Minister Marc Garneau, and Health Minister Jane Philpott. Trudeau and four of the ministers also are set to make their pitch to about a dozen Canadian investors — insurance companies and big pension funds like the Canada Pension Plan Investment Board — in the morning before meeting with the international investors in the afternoon.
Attracting billions in private-sector capital for "transformative" infrastructure projects is key to the Liberal government's long-term strategy to boost Canada's sluggish economic growth.
5. Century Initiative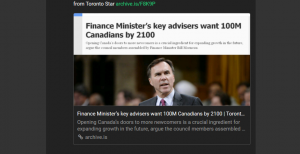 Canada's Deep State – Part 5 Century Initiative
When I first started digging about Canada's new ambassador to China Dominic Barton, he popped up in a group called Century Initiative – a "non-profit" Canadian "registered charity"
Century Initiative's 6 Founding Members – Dom, his buddy Mark & some new players
Dominic Barton, new Ambassador to China, prev. Global Managing Partner McKinsey & Co
Mark D. Wiseman, BlackRock NYC, former CEO Canada Pension Plan Investment Board
Goldy Hyder, Business Council of Canada president and CEO
– Future post to come on Hyder
Willa Black, Vice-President, Corporate Affairs – Cisco Canada
Tom Milroy, Managing Director, Generation Capital Limited
Andrew Pickersgill, also McKinsey & Co
Registered in Jan.2016, a few short months after the 2015 election, a month after Willy Porno announces the Canada Infrastructure Bank at the Toronto Region Board of Trade and while Dom & PMJT are schmoozing at the World Economic Forum in Davos.
Now what would 6 capitalists be doing with a charity? Is this Barton's belief that "corporations should be vehicles for social responsibility, not profits, and they should act for the welfare of all stakeholders, not just shareholders"?
This charitable status is a huge concern – if I'm not mistaken, there is no reporting or accountability of charities – no records of donors. A perfect vehicle for money-laundering & off-shore investments, likely thru the CIB, and tax write-offs for donors – the prefect storm for the elite 1%. I also believe the recent changes to charities in Bill C-86 was an "indirect" benefit to them.
Seems odd that Dom would set up a charity because in the past decade, McKinsey made a major push into FOR-PROFIT PUBLIC-SECTOR WORK, advising governments around the world.
Possible links to 21st Century Initiative by the American Association of Community Colleges (AACC) & Obama??? Anons???
From Jan. to Sept. 2016, there doesn't appear to be much about Century Initiative in the news. Of course Dom & Wiseman are busy with the Canada Investment Bank. But their buddies at Century Initiative were busy busy setting up, writing reports & hiring Shari Austin as CEO, previously VP of Corporate Citizenship and Executive Director of the RBC Foundation – not sure of her connection with Gordon Nixon, Janice Fukakusa or Wiseman's wife Marcia Moffat at RBC but you can bet there is one.
In Oct. 2016, press releases & new articles start exploding on the scene
Hidden behind the Canada Infrastructure Bank's "mandate" is Century Initiative, a "registered charity"
Finance Minister's key advisers want 100M Canadians by 2100
Barton sees a dovetail between some of the ideas behind the Century Initiative and the growth council (Advisory Council), but he says they are separate.
In fact, behind the closed doors of the growth council meetings, Barton said the Century Initiative's 100-million goal didn't come up.
He did acknowledge that he and Wiseman were among the biggest proponents behind the immigration-boosting idea that the group presented to Morneau.
"Probably because Mark and I have been in (Century Initiative) we're obviously more naturally bullish towards it," said Barton, who also noted that there was a lot of debate on the scope of the immigration proposal.
6. Go Follow CdnSpotlight
The above is only a small sample of what has been posted on the Gab account by CdnSpotlight. Lots of dirt, and much of it very unpleasant. However, Canadians concerned about their country should take a look into this.
The rot and corruption runs deep throughout the Canadian political systems. Unfortunately, most people just don't want to know about it.