(Police Press Conference, detailing case)

(Smollett's charges surprisingly dropped)

(Prosecutors thought Smollett was guilty)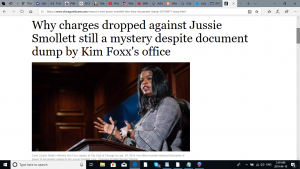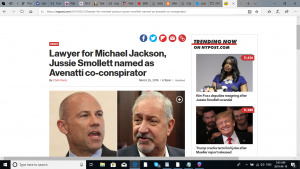 ---
Check toolbar on right for globalism links (under counter). Also view the MASTERLIST.
All personal court appearances are under "BLOG"
Fed Court cases are addressed on right under "Canadian Media".
---
IMPORTANT LINKS

CLICK HERE, for a copy of the claim.
CLICK HERE, for link to Chicago Police Department.
CLICK HERE, for Tina Tchen and Michelle Obama.
CLICK HERE, for talks between Tina Tchen and Kim Foxx.
CLICK HERE, for talks between Kim Foxx and Smollett's family.
CLICK HERE, for donations made by George Soros to Kim Foxx.
CLICK HERE, for the Soros-Foxx connection.
CLICK HERE, for Mark Geragos and Michael Avenatti.
CLICK HERE, for Avenatti and Kim Foxx.
CLICK HERE, for Avenatti and Geragos backstory.
CLICK HERE, for Geragos threatening to depose Mayor Rahm Emanuel.
CLICK HERE, for Rahm Emanuel's mayoral scandal.
Toto, I guess we're not in MAGA Country anymore.
EXERPS
8. Abel responded to Defendant via text message that he and Ola were scheduled to depart the evening of January 29, 2019.

9. After Abel confirmed the date and time of his trip, Defendant texted Abel, "Might need your help on the low. You around to meet up and talk face to face?"

10. That same day, January 25, 2019, GPS records and video evidence indicate that Defendant drove Abel from Empire's Cinespace Studio to Abel's apartment. During the ride, Defendant stated that he was unhappy with the way his employers handled a racist and homophobic letter he had allegedly received three days earlier, and, as a result, he wanted to stage an attack where Abel would appear to batter him.

11. Video evidence shows that Defendant and Abel reached Abel's apartment at approximately 5:00 P.M. on January 25th. When they arrived, Ola, who was then living with Abel, came out of the apartment and sat with Defendant and Abel in Defendant's vehicle. Once
inside, Defendant asked Ola if he could trust him and Ola assented.

12. After Ola attested to his trustworthiness, Defendant and Abel and Ola (the "Osundairo Brothers") discussed their plan to stage a fake racist and homophobic attack on Defendant. Defendant directed the Osundairo Brothers to stage the fake attack on the evening of January 28, 2019, near his apartment building in Streeterville. Defendant and the Osundairo Brothers agreed that the Osundairo Brothers would catch Defendant's attention, and the fake attack would begin when the Osundairo Brothers called Defendant an "Empire F—– Empire N—."
In the lawsuit, Chicago claims the entire attack was staged, and that it was rehearsed ahead of time. Regarding the racist letter referred to in Paragraph 10, Smollett is also under investigation for sending it to himself.
48. For the next two weeks, the CPD expended significant resources investigating Defendant's false report of a high-profile hate crime and physical assault. Over two dozen CPD officers and detectives participated in the investigation, ultimately spending weeks investigating Defendant's false statements. During the course of CPD's investigation into Defendant's false statements, CPD has incurred 1,836 overtime hours, which resulted in the City paying $130,106.15 in overtime pay as result of Defendant's false statements.

49. Eventually, after an extensive investigation using interviews, surveillance videos, Office of Emergency Management pod videos, in-car taxi camera videos, rideshare records, bank records, and a store receipt, CPD identified the Osundairo Brothers as the perpetrators of the alleged attack.
That is expensive, no question. But a little clarification on the pay rates
$130,106.15/1836hr = $70.86/hr, which is seems high even for overtime
If overtime is double time, it's $35.43/hr
If overtime is time and a half, it's $47.24/
50. On February 13, 2019, the Osundairo Brothers returned from Nigeria. They were immediately and separately detained upon their arrival at O'Hare. CPD investigators thereafter obtained testimony and corroborating evidence from the Osundairo Brothers that showed Defendant had orchestrated and staged the attack with the cooperation of the Osundairo Brothers, and that Defendant's police report was false.
51. On February 14, 2019, CPD officers interviewed Defendant again about the Still Photo that he had said on Good Morning America showed his attackers. Defendant again stated that he was certain that the Still Photo depicted the men who had attacked him.
52. CPD officers then told Defendant that the men in the Still Photo had been identified as the Osundairo Brothers.
53. Defendant made further false statements by claiming that his only relationship with the Osundairo Brothers was as trainers and social acquaintances, claiming that they could not have been his attackers.
The attack was staged, then the brothers fled the country. They were arrested when they returned.
WHAT DO THE LAWS SAY?

About the False Statements Ordinance:
56. Subsection 1-21-010(a) of the FSO provides that:

[a]ny person who knowingly makes a false statement of material fact to the city in violation of any statute, ordinance or regulation, or who knowingly makes a false statement of material fact to the city in connection with any application, report, affidavit, oath, or attestation, including a statement of material fact made in connection with a bid, proposal, contract or economic disclosure statement or affidavit, is liable to the city for a civil penalty of not less than $500.00 and not more than $1,000.00, plus up to three times the amount of damages which the city sustains because of the person's violation of this section. A person who violates this section shall also be liable for the city's litigation and collection costs and attorneys' fees.
Note: While triple the damages is optional, court costs and the fine are not. But this is not the only count Smollett is facing in this civil complaint.
About the Cost Recovery Ordinance:
64. The CRO provides that "[a]ny person who causes the city or its agents to incur costs in order to provide services reasonably related to such person's violation of any federal, state or local law, or such person's failure to correct conditions which violate any federal, state or local law when such person was under a legal duty to do so, shall be liable to the city for those costs." MCC § 1-20-020.

65. Under the CRO, "'costs' includes all costs of the city incurred in relation to the provision of services by the city or its agents, regardless of whether the city would have otherwise incurred those costs, including but not limited to wages and benefits of personnel involved in providing such services, reasonable costs of equipment used in the provision of such services, costs of materials expended in providing such services, costs of storing hazardous or any other materials recovered during the course of providing such services, or any other costs allocable to the provision of services."

66. In addition, "[i]n any action brought under [the CRO], the City of Chicago shall also be entitled to recover a penalty in an amount equal to the city's litigation and collection costs and attorney's fees." MCC § 1-20-060.

67. The City is entitled to recovery of the costs of necessary services provided by the City in order to provide services in investigating and responding to Defendant's violations of the MCC, together with its litigation and collection costs and attorney's fees. MCC § 1-20-010
It appears that the City of Chicago is trying to go after Smollett on "both" the FSO and CRO. A bit of double dipping, but let's see what it adds up to
Under False Statements Ordinance
Fine of $500-$1000.
Up to triple the $130,106.16, or $390,318.45
Court costs.
Under Cost Recovery Ordinance (CRO)
City's expenses of $130,106.15
Penalty equal to city expenses of $130,106.15
Collection and attorney's fees
Other costs as directed by the court
In worse case scenario, Smollett would be looking at FIVE TIMES the cost of the investigation, or $650,530.78. This is on top of potentially double the lawyers' fees and a $1,000 fine.
In short, this could plausibly top $1 million if the Judge came down hard on Smollett. But given Smollett's connections, it's possible he could skate on this as well.
WHY WERE THE CHARGES DROPPED?
From the USA Today article: Cook County State's Attorney Kim Foxx earlier this month released a series of text messages and emails to and from Tina Tchen, a prominent Chicago attorney and former chief of staff to Michelle Obama, and an unnamed Smollett relative.
The messages were sent to convey the family's unease with how police were handling their investigation of an alleged attack on the actor at a moment when police were still classifying Smollett as a victim, according to Tchen.
"I know members of the Smollett family based on prior work together," Tchen said in a statement. "Shortly after Mr. Smollett reported he was attacked, as a family friend, I contacted Cook County State's Attorney Kim Foxx, who I also know from prior work together. My sole activity was to put the chief prosecutor in the case in touch with an alleged victim's family who had concerns about how the investigation was being characterized in public."
Foxx said she recused herself from the investigation because of her contacts with Tchen and the Smollett family member. The prosecutor wrote to Police Superintendent Eddie Johnson after the contacts to convey that the family wanted the FBI to take over the investigation, according to copies of emails and text released by the State's Attorney's Office.
It is openly admitted that Michelle Obama's Chief of Staff, Tina Tchen reached out to the State's Attorney, Kim Foxx. Not difficult to conclude that an agreement was made to make the charges disappear.
Jussie Smollett knew Barack and Michelle Obama
Smollett and Obama dislike Trump, who wants strong borders
George Soros (the Open Society), wants to break down national borders.
Soros dislikes Trump's agenda
Soros donates $408,000 to State's Attorney, Kim Foxx.
Tina Tchen is Michelle Obama's former Chief of Staff.
Tina Tchen contacted Kim Foxx, the State's Attorney.
Foxx claimed to have recused herself, but did not.
Foxx directly contacts Smollett's relative
Charges are arranged to be quietly dropped
Smollett's lawyer, Mark Geragos, named as co-conspirator in extortion case.
POLICE WRONG ABOUT MOTIVE?

When Smollett was arrested, the Police Superintendent claimed that it was a publicity stunt in order to gain attention and to attract a higher salary.
But this seems to be a bigger picture.
Smollett is friends with the Obamas.
George Soros is a major donor to the Cook County State's Attorney.
They all dislike Trump and his border policies
Is there anything to Geragos-Avenatti, or coincidence?
This seems to be a deliberate ask to spring their puppet, Smollett.
Yes, Smollett staged the hoax, but doing it for a pay raise doesn't seem to be the reason. It's hard to know where facts end and where conspiracy theories begin.