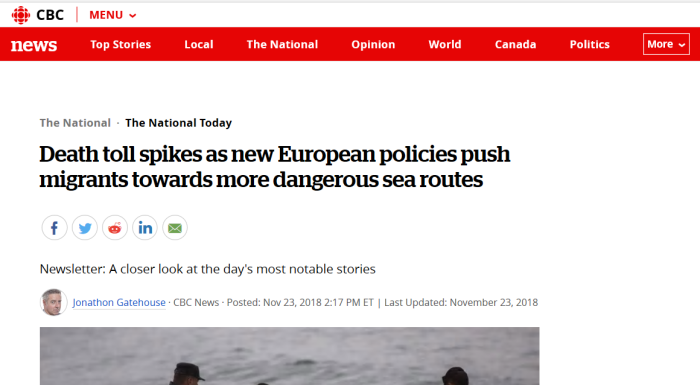 (An extremely biased CBC "news" piece)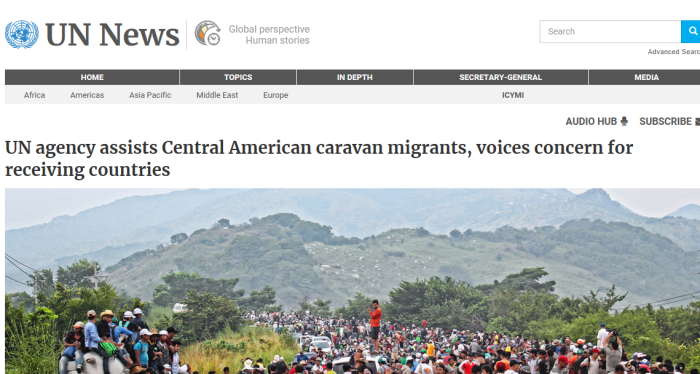 (The U.N. admits it helps "migrants", regardless of their legal status)
(Mastercard and MercyCorps)
CBC, a.k.a The "Communist Broadbasting Corporation", or the "Caliphate Broadcasting Corporation", is a government funded "news" organization. It receives about $1.5 billion annually to spew out anti-Canadian stories. Taxpayers don't get a say in the matter.
CLICK HERE, to reach the CBC Propaganda Masterlist. It is far from complete, but being added to regularly.
Of course, CBC promoting globalism is nothing new. Here is a recent cover of a "non-profit" calling itself Century Initiative. Their goal was to boost Canada's population to 100 million people by the year 2100. Of course, logistical details, or incompatibility of cultures is not discussed.
On November 23, Jonathon Gatehouse of CBC released this article. It contained a story whining about how Europe enforcing its borders was putting migrant lives in danger.
The present article is extremely biased and one sided. It takes issue with Europe protecting its own borders, and denying unending immigration from the third world. It is amazing how an article can both be factually accurate, yet so completely miss the point. CBC is being extremely selective in what information is presents.
Throughout the article, Gatehouse repeatedly implies that these migrants have the right to reach Europe and live there. The right of European Nations to defend their borders is mention is looked down upon. Let's go through the article:
"Desperate migrants are choosing ever more dangerous sea routes to Europe and using smaller and less seaworthy boats, causing a sharp increase in drowning deaths, warns the International Organization for Migration."
What CBC leaves out is that these are "ILLEGAL" migrants, who do not have permission to enter Europe, let along live there. This point is omitted throughout the article.
"The European Union's success in cutting deals to close off the sea routes from Turkey to Greece, and from Libya to Italy, has resulted in an overall drop in the number of migrants arriving on the continent — 128,265 so far this year, compared to almost 187,000 in 2017, and 390,000 in 2016.
.
Some are now even arriving in the Canary Islands, a Spanish archipelago 100 kilometres off the Moroccan coast. At least 36 migrants have died trying to make that crossing in 2018, compared to one the year befoore"
The European Union is not trying to cut off one route for the sake of being a jerk. They are genuinely trying to control their borders with this move. Migrants are trying circumvent this by finding other ways to get into Europe.
"Yet despite the concerns over the rising death toll, many European nations seem focused on enacting even tougher anti-migrant policies.
.
This week, prosecutors in Sicily moved to seize a migrant rescue vessel operated by Medecins Sans Frontières and another aid organization, accusing the groups of illegally dumping of 24 tonnes of "potentially toxic waste" during stops in Italian ports."
Gatehouse seems to miss the point of this entirely. European nations are sick of mass illegal immigration and are trying to stop it. If migrants are endangering themselves by finding innovative ways to break immigration laws, then it is not the responsibility of said nations to provide assistance. There is no obligation to aid law-breakers.
"And soon, Italy's parliament will vote on a new immigration law proposed by the populist government that will remove humanitarian protections for migrants and block asylum seekers from accessing services. These are moves that UN human rights experts have said will "certainly" violate international law."
Gatehouse omits the key detail that these new laws are meant for ILLEGAL immigrants. He seems to think that just showing up against Italy's will entitles people to free benefits.
"Meanwhile in Hungary, Prime Minister Viktor Orbán is ratcheting up his attacks on the European Union, calling it a "transport agency" for migrants that hands out funds and "anonymous bank cards" to "terrorists and criminals."
.
"This is the kind of slippery slope which could again lead to a broken Europe," Orbán declared today in an interview on Hungarian public radio.
Actually, the EU and UN do provide financial assistance for migrants, regardless of their legal status. See this page, from the U.N. website, regarding the "caravan" demanding access to the U.S. See this previous article. Handing out prepaid credit cards to finance "migration" actually is happening.
"Anti-immigrant sentiment is undeniably on the rise in Europe.
.
This week, the Guardian newspaper crunched the voting results from 31 European elections over the past 20 years. It found that populist parties have tripled their support and managed to put their leaders into positions of power within 11 different governments."
This is true, although Gatehouse bypasses the fact that mass, illegal and uncontrolled immigration directly leads to anti-immigrant sentiment and policies. Throughout the article, there is no mention of European nations having the right to decide for themselves who enters their borders.
""I [Hillary Clinton] admire the very generous and compassionate approaches that were taken, particularly by leaders like Angela Merkel, but I think it is fair to say Europe has done its part, and must send a very clear message — 'We are not going to be able to continue to provide refuge and support' — because if we don't deal with the migration issue it will continue to roil the body politic."
.
To date in 2018, 2,075 migrants have drowned or gone missing while crossing the Mediterranean."
This quote is accurate. However, the connection seems to be lost on the author. And while 2075 may have died, they were trying to get into Europe ILLEGALLY. This is a point Gatehouse avoids altogether. Why should Europe assist those trying to break their laws?
This is a theme in the entire article: that these migrants have a "right" to enter Europe, and that Europe is causing a humanitarian crisis by not assisting them.
However, Gatehouse does deserve credit for one thing: not once does he refer to them as "refugees". he acknowledges that they are migrants looking for a better life.