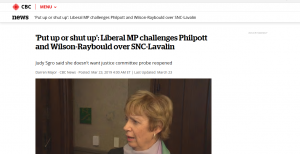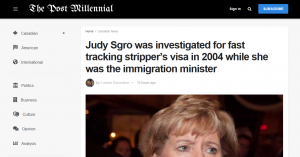 CLICK HERE, for link to the CBC article.
CLICK HERE, for the CBC propaganda masterlist.
CLICK HERE, for Judy Sgro's "questionable" past, which involved getting a visa fast tracked for a stripper.
Liberal MP Judy Sgro openly puts party unity and re-election prospects over ethics and transparency. CBC, at least in the article, doesn't seem to press her on it.
Long-time Liberal MP Judy Sgro is calling out fellow caucus members Jody Wilson-Raybould and Jane Philpott, accusing them of targeting their anger and frustration directly at Prime Minister Justin Trudeau over the SNC-Lavalin scandal.
.
In an explosive interview with Maclean's — her first media interview since she resigned from the Liberal cabinet on March 4 — Philpott said there is "much more" to the SNC-Lavalin affair and Canadians have concerns about the government's attempts to "shut down" the story.
.
On Friday, Wilson-Raybould said she will provide a written statement and copies of text messages and emails to the Commons justice committee that shut down its probe of the SNC-Lavalin affair.
From the opening, Sgro seems to show no concern for the allegations, which are not only unethical but most likely criminal. Instead, she complains that is harming the party itself, despite the continuing story.
Both the interview and the letter landed in the midst of a parliamentary uproar over the Liberals' move to end the Commons justice committee's probe of Wilson-Raybould's claim that she was pressured by senior government officials to allow SNC-Lavalin to avoid a criminal trial on bribery charges.
.
Philpott, who resigned from cabinet over the government's handling of the file, said she believes Canadians need answers to maintain their confidence in the independence of the justice system.
.
But Sgro said she thinks Wilson-Raybould and Philpott are providing fodder to the opposition and challenged them to use their parliamentary privilege to air whatever they have to say on the SNC-Lavalin affair.
.
"It's either put up or shut up," Sgro told Chris Hall, host of CBC Radio's The House, in an interview airing Saturday.
The Liberals use their majority to shut down the committee. Sgro glosses over that and suggests that this is being used by opposition members against them. Again, no concern for ethics here.
Sgro was one of the MPs attending a meeting of the Liberals' Ontario caucus on Wednesday — a meeting described by people in the room as "rough" and "uncomfortable."
.
CBC News reported this week that Philpott faced tough questions from her colleagues at the closed-door meeting. Sources inside the room told CBC News Philpott began by defending her decision to resign from cabinet, saying she was acting on principle and for the good of the country. Some MPs reminded her that the caucus had supported her on sensitive issues, including her handling of medical assistance in dying legislation, and had backed her when she ran into controversy over limo costs in 2016.
Some at the meeting also told CBC News that Philpott appeared to be taking notes and was asked to stop.
I bet it was awkward.
Is Philpott supposed to give Trudeau a free pass because some of here agenda (assisted suicide), and since her ethics stains had been shrugged off?
Don't take notes… Why? Harder to create a paper trail perhaps.
Sgro said she thinks the ongoing affair is hurting the Liberal government's chance of re-election this year and some of her fellow MPs are worried.
Exactly, this is all about being re-elected.
It affects all of us when one of our members of the team decides to go out and speak against the rest of us, or unnerve the rest of us," she said. "You can't keep dropping innuendo every day and expect that all of us from the prime minister down are hopeless to stand back and do anything about this."
.
Trudeau's brand as a feminist has taken hits since the SNC-Lavalin affair began, including Opposition House Leader Candice Bergen accusing him of being a "fake feminist". Sgro fiercely defended Trudeau, saying that of the five prime ministers she's served with, she's never had a prime minister as caring and compassionate as him.
No care for ethics breaches, just how it impacts MPs. And interesting that Sgro shifts from "ethics" to "compassion". Guess she thinks that if people see Trudeau as compassionate, he can't be unethical.
Despite her challenge to her caucus colleagues, Sgro said she thinks the justice committee probe shouldn't be reopened and that any further probe should be handled by the ethics commissioner.
.
"Let the commissioner do his job. He'll come back with a recommendation to the House of Commons, with a report, and then whatever action … if any action needs to be done, it'll be done then," she said.
.
"Let's let things get investigated by the proper people and not politicians who are out to knock each other."
Shouldn't be reopened. Nothing to see here. And if committees are so useless, why have them in the first place?