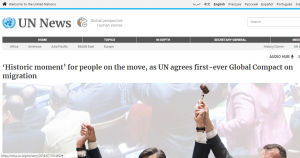 This agreement, though it sounds harmless enough, should send chills down the spine of anyone who values having a nation, and a national identity.
For some perspective, the European Union, (E.U.) decided to impose migrant quotas on memberstates, with or without their consent. Last September, the European Court of Justice rejected challenges brought by Hungary and Slovakia. Poland and now Hungarynow face the loss of voting rights. The E.U. will punish member states who dare to act in accordance with their constituents' wishes
Victor Oraban of Hungary has become a de facto leader of defending nation's rights in Europe. See here, see here, and see here.
For those of you interested in the topic of nationalism, Steve Turley is a YouTuber and conservative author I frequently watch, and here is a review of one of his latest books. Check him out.
As for the UN Global Compact on Migration, it would in essence be the global version of what the E.U. is already doing to Europe. Member states are having their arms twisted and threatened with loss of voting rights and other sanctions for not complying.
This is in fact referring to hundreds of millions.
Today, there are over 258 million migrants around the world living outside their country of birth. This figure is expected to grow for a number of reasons including population growth, increasing connectivity, trade, rising inequality, demographic imbalances and climate change. Migration provides immense opportunity and benefits – for the migrants, host communities and communities of origin. However, when poorly regulated it can create significant challenges. These challenges include overwhelming social infrastructures with the unexpected arrival of large numbers of people and the deaths of migrants undertaking dangerous journeys.
The full text of the agreement is about 34 pages. It lists 16 "preambles", and a further 23 "objectives". Here are a few:
4. Refugees and migrants are entitled to the same universal human rights and fundamental freedoms, which must be respected, protected and fulfilled at all times. However, migrants and refugees are distinct groups governed by separate legal frameworks. Only refugees are entitled to the specific international protection as defined by international refugee law. This Global Compact refers to migrants and presents a cooperative framework addressing migration in all its dimensions.
On the surface this sounds harmless enough. But remember, Trudeau (with Conservative support) is for letting people stay in the country, even if they sneak in under false pretenses. Remember, you get a hearing as long as you "claim" to be a refugee.
7. This Global Compact presents a non-legally binding, cooperative framework that builds on thencommitments agreed upon by Member States in the New York Declaration for Refugees and
Migrants. It fosters international cooperation among all relevant actors on migration, acknowledging that no State can address migration alone, and upholds the sovereignty of States and their obligations under international law.
At least on paper, this is an improvement over the E.U. migrant quota scheme (which punishes dissent). However, we will see how "voluntary" it really is.
Shared Responsibilities
11. This Global Compact offers a 360-degree vision of international migration and recognizes that
a comprehensive approach is needed to optimize the overall benefits of migration, while addressing risks and challenges for individuals and communities in countries of origin, transit and destination. No country can address the challenges and opportunities of this global phenomenon on its own. With this comprehensive approach, we aim to facilitate safe, orderly and regular migration, while reducing the incidence and negative impact of irregular migration through international cooperation and a combination of measures put forward in this GlobalCompact.
The UN document is using the same dishonest language of "irregular migrants". They are illegal immigrants, and border hoppers. I also don't like when it says that no country can address the problem on its own.
National sovereignty: The Global Compact reaffirms the sovereign right of States to determine their national migration policy and their prerogative to govern migration within their jurisdiction, in conformity with international law. Within their sovereign jurisdiction, States may distinguish between regular and irregular migration status, including as they determine their legislative and policy measures for the implementation of the Global Compact, taking into account different national realities, policies, priorities and requirements for entry, residence and work, in accordance with international law.
Again, referring to "illegal aliens" as "irregular migrants". This manipulation of language is infuriating. Reiterating that this is voluntary, but it will be interesting to see how much pressure is applied later.
OBJECTIVE 1: Collect and utilize accurate and disaggregated data as a basis for evidence based policies
.
17. We commit to strengthen the global evidence base on international migration by improving and investing in the collection, analysis and dissemination of accurate, reliable, comparable data, disaggregated by sex, age, migration status and other characteristics relevant in national contexts, while upholding the right to privacy under international human rights law and protecting personal data.
This sounds creepy and Orwellian. Will nations be forced to give up personal data to international agencies? See the last article here.
OBJECTIVE 4: Ensure that all migrants have proof of legal identity and adequate
documentation
.
20. We commit to fulfil the right of all individuals to a legal identity by providing all our nationals with proof of nationality and relevant documentation, allowing national and local authorities to ascertain a migrant's legal identity upon entry, during stay, and for return, as well as to ensure effective migration procedures, efficient service provision, and improved public safety. We further commit to ensure, through appropriate measures, that migrants are issued adequate documentation and civil registry documents, such as birth, marriage and death certificates, at all stages of migration, as a means to empower migrants to effectively exercise their human rights.
The wording of this is troubling. How exactly will the UN help people gain identification? Will they take them at their word? Also, does this document refer to migration as a human right?
OBJECTIVE 11: Manage borders in an integrated, secure and coordinated manner
.
27. We commit to manage our national borders in a coordinated manner, promoting bilateral and regional cooperation, ensuring security for States, communities and migrants, and facilitating safe and regular cross-border movements of people while preventing irregular migration. We further commit to implementborder management policies that respect national sovereignty, the rule of law, obligations under international law, human rights of all migrants, regardless of their migration status, and are non-discriminatory, gender-responsive and child-sensitive.
Arguably the worst of them all. "Manage borders in an integrated manner"? This would destroy national sovereignty.
Okay, here is the full list of the 23 objectives:

Objectives for Safe, Orderly and Regular Migration
(1) Collect and utilize accurate and disaggregated data as a basis for evidence-based policies
(2) Minimize the adverse drivers and structural factors that compel people to leave their country of origin
(3) Provide accurate and timely information at all stages of migration
(4) Ensure that all migrants have proof of legal identity and adequate documentation
(5) Enhance availability and flexibility of pathways for regular migration
(6) Facilitate fair and ethical recruitment and safeguard conditions that ensure decent work
(7) Address and reduce vulnerabilities in migration
(8) Save lives and establish coordinated international efforts on missing migrants
(9) Strengthen the transnational response to smuggling of migrants
(10) Prevent, combat and eradicate trafficking in persons in the context of international migration
(11) Manage borders in an integrated, secure and coordinated manner
(12) Strengthen certainty and predictability in migration procedures for appropriate screening, assessment and referral
(13) Use migration detention only as a measure of last resort and work towards alternatives
(14) Enhance consular protection, assistance and cooperation throughout the migration cycle
(15) Provide access to basic services for migrants
(16) Empower migrants and societies to realize full inclusion and social cohesion
(17) Eliminate all forms of discrimination and promote evidence-based public discourse to
shape perceptions of migration
(18) Invest in skills development and facilitate mutual recognition of skills, qualifications and
competences
(19) Create conditions for migrants and diasporas to fully contribute to sustainable development in all countries
(20) Promote faster, safer and cheaper transfer of remittances and foster financial inclusion of migrants
(21) Cooperate in facilitating safe and dignified return and readmission, as well as sustainable reintegration
(22) Establish mechanisms for the portability of social security entitlements and earned benefits
(23) Strengthen international cooperation and global partnerships for safe, orderly and regular migration
This global compact will undermine if not destroy what it means to be a nation.
If Canada (or any other nation) has to coordinate or integrate its border policies with the United Nations, then we don't have borders.
Further, while under the pretense of "helping refugees" the UN seems to want to have a say in how national migration policies IN GENERAL are handled.
Side Note: See here for a piece on ID requirements to vote in some Common Law countries. It is true.
Overall, the UN Global Compact for Migration is a frightening agreement. Anyone who values the sovereignty and independence of their country should be aware of, and opposed to this.