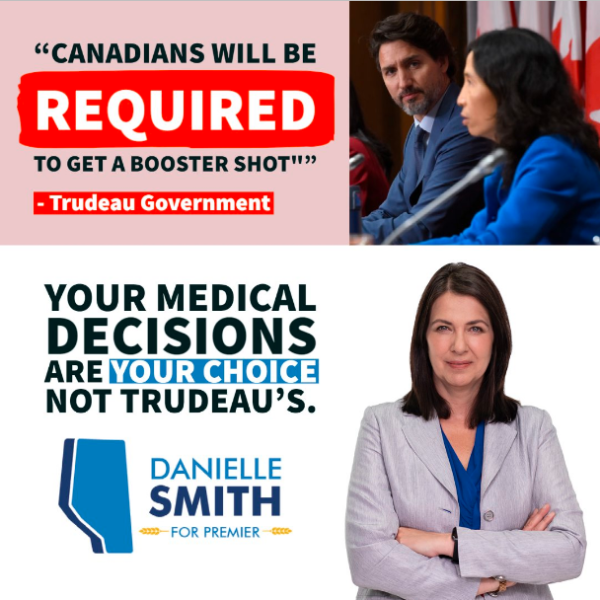 In a move that was disappointing, but not surprising, Alberta Premier Danielle Smith has backed off on a promise to enshrine "vaccination status" as a human right. This would effectively ban the passes that her predecessor, Jason Kenney, had brought in. The latest video was published on Global News, and involves Smith explaining why this isn't going to happen. Apparently, the issue is too complex to be handled with a single piece of legislation.
However, the reasoning makes no sense. Jason Kenney brought in the passes by Ministerial Order. This was done without public consultation, a referendum, or any debate. If the Premier wields that kind of power, then surely Smith can ban the use of them in the same way. A Bill wouldn't even be needed.
This comes despite public pressure for remaining business to drop their own requirements for patrons, clients and customers. In other words, Smith wants businesses to voluntarily do away with the QR codes, but isn't willing to do it herself.
This was addressed in an earlier piece. If Smith were serious about protecting the freedoms of Albertans, she would come clean on exactly what is happening regarding "public health".
Over a century ago, an International Public Health Office was created, which we became a part of. This was done without any democratic mandate of course.
1926: International Sanitary Convention was ratified in Paris.
1946: WHO's Constitution was signed, and it's something we'll get into in more detail.
1951: International Sanitary Regulations adopted by Member States.
1969: International Health Regulations (1st Edition) replaced ISR. These are legally binding on all Member States.
2005: International Health Regulations 3rd Edition of IHR were ratified.
2005: Quarantine Act, Bill C-12, is brought as domestic implementation of WHO-IHR.
It should be pointed out as well: the Quarantine Act was the basis for a lot of the content within the various Provincial Public Health Acts. Medical martial law is on the books, courtesy of policies that weren't even written in Canada. That's very undemocratic.
Of course, it's possible that Smith knows nothing about any of this. If that's the case, it's scary how a person can wield this much power, without any awareness.
A cynic may wonder whether Smith never intended to introduce legislation in the first place. Perhaps this was a calculated plot to win the leadership race.
Another possibility is that this will come up again in the May 2023 election. Smith can facetiously campaign against the NDP, demanding she be elected, otherwise, face the return of QR codes. We'll have to see what the next move is.
Just 6 weeks ago, Smith capitulated at the altar of political correctness. People were offended that she called the unvaccinated "the most discriminated group". Instead of standing her ground, she apologized.
So, are the vaxx passes a human rights issue or not?
And when she says it's important to have a "proper pandemic planning response for next time", does she know something we don't? Can we expect another psy-op like before?
(1) https://globalnews.ca/news/9309856/danielle-smith-bill-protect-unvaccinated/
(2) https://canucklaw.ca/what-danielle-smith-isnt-telling-her-supporters/
(3) https://www.treaty-accord.gc.ca/index.aspx
(4) https://www.treaty-accord.gc.ca/details.aspx?lang=eng&id=103984&t=637793587893732877
(5) https://www.treaty-accord.gc.ca/details.aspx?lang=eng&id=103986&t=637862410289812632
(6) https://www.treaty-accord.gc.ca/details.aspx?lang=eng&id=103990&t=637793587893576566
(7) https://www.treaty-accord.gc.ca/details.aspx?lang=eng&id=103994&t=637862410289656362
(8) https://www.treaty-accord.gc.ca/details.aspx?lang=eng&id=103997&t=637793622744842730
(9) https://www.treaty-accord.gc.ca/details.aspx?lang=eng&id=105025&t=637793622744842730
(10) https://apps.who.int/iris/handle/10665/88834
(11) https://canucklaw.ca/wp-content/uploads/2020/09/ihr.convention.on_.immunities.privileges.pdf
(12) https://cdn.who.int/media/docs/default-source/documents/publications/basic-documents-constitution-of-who179f0d3d-a613-4760-8801-811dfce250af.pdf?sfvrsn=e8fb384f_1&download=true
(13) WHO Constitution Full Document