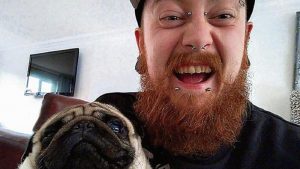 (Mark Meechan, a.k.a. "Count Dankula")
August 8, 2018 — Mark Meechan, who goes by the nickname "Count Dankula", was arrested for posting content that was deemed to be "grossly offensive" and that violated the Communications Act of 2003. Here is an exerp:
127
Improper use of public electronic communications network
(1)
A person is guilty of an offence if he—
(a)
sends by means of a public electronic communications network a message or other matter that is grossly offensive or of an indecent, obscene or menacing character; or
(b)
causes any such message or matter to be so sent.
(2)
A person is guilty of an offence if, for the purpose of causing annoyance, inconvenience or needless anxiety to another, he—
(a)
sends by means of a public electronic communications network, a message that he knows to be false,
(b)
causes such a message to be sent; or
(c)
persistently makes use of a public electronic communications network.
(3)
A person guilty of an offence under this section shall be liable, on summary conviction, to imprisonment for a term not exceeding six months or to a fine not exceeding level 5 on the standard scale, or to both.
(4)
Subsections (1) and (2) do not apply to anything done in the course of providing a programme service (within the meaning of the Broadcasting Act 1990 (c. 42))
Dankula had been arrested for posting indecent content in April 2016, when, as a joke, he taught his girlfriend's dog to do the Hitler salute in response to the words "Sieg Heil" and "Gas the Jews". A self described "shit poster", stated repeatedly that he is not a Nazi, and only posted the video to annoy his girlfriend. As he said, "she would never shut up about it."
Dankula was convicted in March 2018 seehere, and sentenced, fined £800 in April. The Court didn't care that Meechan had done it as a joke, and merely to annoy his girlfriend. Not only was Count Dankula fined, the Court said he was lucky to not have actually received a prison sentence for doing this.
In August, he had his appeal denied by Sheriff Appeal Court, see here, and here. The Appeals Court found that:
"This was a deeply unpleasant offence in which disgraceful and utterly offensive material was very widely distributed by the appellant. This was to the considerable distress of the [Jewish community] and — just as disturbingly — to the apparent approval of a large number of persons who appear to share the appellant's racist views,"
Both the Trial Court and the Appellate Court rejected Meechan's claim that the video was meant as a joke. Instead, they claim that it was meant to stir up anti-Semitism and suggested that Meechan shared those views.
Meechan, for his part, claims he will not pay the fine, and would have to be forced to prison for non-compliance. He seems to prefer taking a principled stand rather than "bending the knee", as he refers to it. He has gone very public on the matter, and is now a free speech champion.
It offers some consolation to Meechan that there is widespread public support for his challenge. See: (a) here; (b) here; (c) here; (d) here; (e) here; (f) here, (g) see here, (h) see here and (i) see here. Comedians, politicians, and commentators inside and outside the UK condemn such a crackdown on free speech. As distasteful as this stunt was, it does not warrant an arrest, nor a trial, conviction and fine. The wider public sees this video was meant as a joke.
Meechan/Dankula may be sent to prison if he refuses to either: (a) pay the fine; or (b) appeal further. This matter is not over it seems.
Bigger than this case, the Sentencing Council seems to be pushing for harsher punishment for what it deems "offensive".
Other Instances:
Like most of the commenters about this story, this is shocking, though not surprising abuse of power. Agreed, teaching the dog to do a Nazi salute is of very questionable taste. However, in seeing Meechan online, it is far more likely that it is immaturity/bad humour, not actual promotion of hate. Admittedly, I had a chuckle at how juvenile this 30 year old man is. This is not worthy of criminal charges at all.
(1) Unfortunately, the UK is moving towards censoring of ideas, words and jokes deemed "offensive". In March 2018, three activists: Lauren Southern, Brittany Pettibone, and Martin Sellner, were refused entry into the UK for "hate speech". Southern was actually detained under Schedule 7 of the Terrorism Act. The trio are now suing the UK, on the grounds that they were discriminated against primarily based on political beliefs.
(2) Also in March, Tommy Robinson, had been arrested for livestreaming outside a UK Court, regarding the "Grooming Gangs" trial. The 13 month sentence and conviction is under appeal. Interestingly, Brittany Pettibone had gone to the UK to do an interview of Robinson.
However, people should not be tricked into thinking the UK is an intolerant nation after all. Even if you fight for ISIS, you are still welcome back. But those with right-wing opinions, just stay away.
While it is depressing to see freedom being whittled away, I get some hope in seeing people fight back.