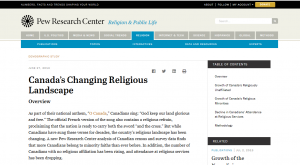 1. Previous Solutions Offered
A response that frequently comes up is for people to ask what to do about it. Instead of just constantly pointing out what is wrong, some constructive suggestions should be offered. This section contains a list of proposals that, if implemented, would benefit society. While the details may be difficult to implement, at least they are a starting point.
2. Important Links
CLICK HERE, for Canadian Charter of Rights & Freedoms.
http://archive.is/CtL2f
CLICK HERE, for DOJ postings on CDN Charter case rulings.
http://archive.is/DPNZC
CLICK HERE, for the Quarantine Act of 2005.
http://archive.is/5phw1
CLICK HERE, for the Emergency Act of 1985.
http://archive.is/sbbGs
(a) R. v. Keegstra, [1990] 3 SCR 697
(b) Little Sisters Book and Art Emporium v. Canada (Minister of Justice), [2000] 2 SCR 1120
(c) Multani v. Commission scolaire Marguerite-Bourgeoys, [2006] 1 SCR 256
(d) Canada (Attorney General) v. PHS Community Services Society, 2011 SCC 44
(e) R. v. N.S., 2012 SCC 72
(f) Canada (Attorney General) v. Bedford, 2013 SCC 72
CLICK HERE, for Pew Research, 2013 religious trends.
http://archive.is/boEQH
1948.UN.Convention.Genocide.Prevention.Punishing
3. Context For This Article
This piece addresses the coronavirus "planned-emic", but in the larger context of an attack on religion.
Over the last few months, the priorities and demands of various governments has seemed illogical, conflicting, and downright nonsensical. Here are just a few examples:
Abortion is still considered an essential service, but performing marriages is something that can wait
Interprovincial travel restricted, but foreigners still allowed in
Mass unemployment gets worse, but foreign workers still imported
Possible arrest for not "social distancing", but criminals are released for their own safety
Religious gatherings banned, but only for some groups
Shutting down the economy and arranging bailouts for cronies is no shocker. However, there is something more nefarious at play, the destruction of Western Society. In particular, there is a continued attack on a major institution that built the West: Christianity.
It's bittersweet that Prime Minister Trudeau constantly flouts the 1982 Charter of Rights and Freedoms that his father implemented. There seems to be no hesitation to trample on Section 2 (fundamental freedoms).
As officials in Canada (and the U.S) see nothing wrong with forcibly shutting down religious services, the time is long overdue to fight back.
This fake pandemic is blatant, but it's part of a larger effort. The goal is to erase the Christian founding of Canada and replace it with a mix of: nihilism; Satanism; Islam; diversity and multiculturalism. The ideology which built the West (and its old-stock) are being replaced.
But while these groups enjoy Human Rights Tribunals and special rights fighting for them, Christian groups are told they have to become secular to be ever more accommodating.
Yes, the majority are being told they can't have an identity and must accommodate everything under the sun. Yet groups that are hostile to Christians are pandered to endlessly. This is a recipe for breaking up Western nations. This pattern applies both to religions and ethnic groups.
4. Theresa Tam Rehearsed Scenario In 2010

Start clip at 56:50. It will give you chills.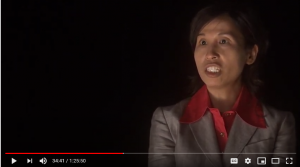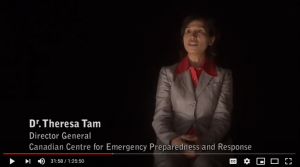 Thank you to Civilian Intelligence Network for digging up the film. In what can only be described as predictive programming, or a trial run, Theresa Tam "Canada's top Doctor" takes part in a 2010 film about a fictional epidemic in Canada. Doesn't get much more premeditated than shooting a film a decade in advance.
In the film (56:50 to 57:50) Tam talks approvingly (seeming almost giddy) about being able to enforce mandatory quarantines, using tracking bracelets, and only "worry later" about questions of an overreach. It's difficult to make the clip look worse than it actually is. Seems that life is now imitating art.
The video also talks about mandatory vaccinations. If people refused, they can be taken "to temporary detention centers". Again, this video was released in 2010, a decade ago.
5. Lobbying/Vaxx Agenda Behind The Scenes
CLICK HERE, for CV #0: Theresa Tam; archives; articles; lobbying.
CLICK HERE, for CV #1: piece on Bill Gates, Pirbright, depopulation.
CLICK HERE, for CV #2: Coronavirus research at U of Saskatchewan.
CLICK HERE, for CV #3: Gates; WHO, ID2020; GAVI; Vaccines.
CLICK HERE, for CV #4: Gates using proxies to push vaxx agenda.
CLICK HERE, for CV #5: Crestview Strategy, GAVI's lobbying firm.
CLICK HERE, for CV #6: people GAVI/Crestview lobbied follow Gates.
CLICK HERE, for CV #7: M-132, Canada financing pharma research.
CLICK HERE, for CV #8: Canada/WHO & "vaccine hesitancy" research.
CLICK HERE, for CV #9: Raj Saini, lobbied by big pharma (M-132).
CLICK HERE, for CV #10: pharma lobbying in Alberta legislature.
CLICK HERE, for CV #11: ON Pharma; Bill 160 Not Implemented.
If you doubt that government lobbying and the pharma lobby are greatly influencing how this "pandemic" is playing out, consider the content in the above articles. The Federal Government, the Provincial Governments of Alberta, Saskatchewan, and Ontario (among many others), are being lobbied by drug companies.
Furthermore, "depopulation" fetishists like Bill Gates are active in the media claiming vaccines are needed. Globalists everywhere are clamoring for more control of their populations.
There is much more at stake than simply a virus or public illness. Assuming it even exists, the severe overreach cannot be explained merely by hysteria. Something else is in play.
Of course, if Western nations do impose mandatory vaccinations on their citizens, guess which groups will be predominantly impacted?
6. Court Rulings Against Christianity
This page is available on the Canadian Department of Justice website, and lists a few dozen critical cases in Charter precedent. While they may seems appealing on the surface, most are actually quite disturbing. Let's look at some.
R. v. Keegstra, [1990] 3 SCR 697
10. Hate speech towards targeted groups
James Keegstra was a high school teacher in Alberta who taught his students that Jewish people were evil. He also denied that the Holocaust occurred and said it was invented by Jewish people to gain sympathy. Keegstra was convicted for promoting hatred against an identifiable group based on these statements to his students.
.
Keegstra argued that the Criminal Code prohibitions on hate speech infringed his freedom of expression. The Supreme Court confirmed that the Charter protects all forms of speech, including hate speech, so long as it does not include violence. However, the majority of the Court concluded that the limits the Criminal Code placed on Keegstra's freedom of expression were justifiable. This is because the limits aimed to protect groups targeted by hate speech and to promote positive relations in a country dedicated to equality and multiculturalism.
.
The Keegstra case serves as a reminder that freedom of expression is not absolute and can be limited in situations where there is a need to balance competing interests like respect for difference, equality and multiculturalism.
That's right. As of 1990, "Holocaust denial" is deemed to be a criminal offense, regardless of how well founded it may be. This also applies even when there no violence sought. The Court considers promoting positive relations to be more important than truth.
Little Sisters Book and Art Emporium v. Canada (Minister of Justice), [2000] 2 SCR 1120
19. Freedom speech and equality of the LGBTQ2 community
Little Sisters was a specialized bookstore that sold books primarily to the gay and lesbian community. The bookstore imported most of its material from the United States. Customs officials classified the books and other materials as "obscene" which prevented the shipments from entering Canada. Under the customs regime, businesses and individuals in Canada were prohibited from importing "obscene" materials into Canada.
.
Little Sisters challenged the customs rules, arguing that the regime violated freedom of expression and the equality rights of the LGBTQ2 community. The Supreme Court concluded that the customs regime did limit freedom of expression, but that most of the law could be justified as a reasonable limit on this right. However, the Court found that the way that the customs officials were applying the law violated the equality rights of the customers of Little Sisters bookstore because the officials were applying a discriminatory standard to their materials compared to those aimed at a heterosexual audience.
.
This case helped pave the way for further recognition of the rights of sexual minorities in Canada and also confirmed that freedom of expression protects the right to receive materials like books. The case also highlighted that both laws and the actions of all government officials must respect the Charter.
So Customs was within its discretion to not allow obscene material into Canada. However, the gay rights screamed discrimination and had their property admitted anyway. Now that drag queen story hour is a reality, will denying child pornography now be constitutionally protected?
Multani v. Commission scolaire Marguerite-Bourgeoys, [2006] 1 SCR 256
24. Religious freedom in school
Gurbaj Singh Multani was an orthodox Sikh student who believed that his religion required him to wear a kirpan at all times, including at school. A kirpan is a religious object worn by people of Sikh faith that looks like a dagger. Multani and his parents agreed with the school board's request that he seal the kirpan in his clothing at all times while wearing it at school. However, the school board's council of commissioners told Multani that he could not wear the kirpan to school even if it was sealed in his clothing because bringing dangerous objects to school violated the school's code of conduct.
.
The Supreme Court found that the council's decision infringed Multani's freedom of religion. Multani sincerely believed that his Sikh faith required him to wear the kirpan and the prohibition on wearing it would have prevented him from attending public school altogether. The school board had not justified that a full ban on wearing kirpans in school was a reasonable limit on freedom of religion. There had never been a violent incident involving a kirpan at school and there was no evidence that the kirpan itself was a symbol of violence. The Court's decision provides important guidance on the relationship between religious freedom, multiculturalism and public education in Canada. A total ban on wearing kirpans in schools ignores the importance of respect for minorities and religious tolerance in Canada's multicultural society.
It seems that knives are a public safety issue in Canadian schools, and must be banned. That doesn't seem to apply, though, when people of non-Christian religions complain that it's mandatory.
Canada (Attorney General) v. PHS Community Services Society, 2011 SCC 44
29. Supervised injection sites
In 2003, health authorities in British Columbia opened a supervised drug injection site to combat the epidemic of HIV/AIDS and hepatitis C in the Downtown Eastside of Vancouver. In order for the operation of these sites to be considered legal, the federal Minister of Health must grant an exemption from the prohibitions of possession and trafficking of controlled substances. In 2008, the BC health authorities made an application for a new exemption before the previous one expired. The Minister denied the application. The organization that ran the site and a number of its clients argued that the Minister's decision violated the right to life, liberty and security of the person.
.
The Supreme Court found that the Minister's decision would prevent injection drug users from accessing life-saving health services. As a result, the health of the clients would be threatened and their lives would be endangered. Evidence showed that in over the 8 years of its operation, the safe injection site had proven to save lives with no known negative impact on public safety or health. The Minister's decision went against the public safety objectives it was supposed to be pursuing. It was also arbitrary, meaning it had no rational connection to the government's stated purpose of protecting lives and health. The Court ordered the Minister to grant the exemption.
Rather than getting these people real treatment, the BC Health Authorities decided that funded that taxpayer funded narcotics was a better solution. Additionally, BC would also cover the salaries and building overhead needed for this operation to function.
31. Balancing competing rights and freedoms: religious freedom and trial fairness
After N.S. was sexually assaulted, the Crown called her as a witness in the preliminary inquiry of her accused attackers. For religious reasons, N.S. asked to testify wearing a niqab, a head scarf that covers the face except the eyes. The judge ordered her to remove her niqab, but N.S. argued that making her do so would infringe her right to religious freedom.
.
The majority of the Supreme Court held that if wearing the niqab poses no serious risk to trial fairness, a witness who wishes to wear it for sincere religious reasons may do so. This case requires judges try to find a way to balance freedom of religion and trial fairness if the two rights conflict with each other. More generally, this case highlights the need for public institutions to accommodate religious difference as much as possible so everyone feels respected, while still upholding other Charter-protected rights and freedoms.
Most adults will know that a lot of information can be gleaned from facial expressions. In criminal cases, being able to properly cross examine a witness is very important. Having the face covers denies the other side the chance to fully get a read on the person. Additionally, it is extremely disrespectful to have this coming into the courts at all.
Canada (Attorney General) v. Bedford, 2013 SCC 72
32. Sex work and the right to security of the person
Terri Jean Bedford, Amy Lebovitch and Valerie Scott were current or former sex workers who challenged three provisions of the Criminal Code which criminalized various activities relating to prostitution, including:
-public communication for the purposes of prostitution
-operating a bawdy house
-living off of the avails of prostitution
.
They argued that these restrictions deprived sex workers of their right to security by forcing them to work in secret, which prevented them from adopting important and life-saving safety measures, even though prostitution itself was legal.
.
The Supreme Court decided these provisions violated the right to security because they increased the serious risks sex workers faced on a daily basis. The government had not proven that the provisions were a proportionate response to the harms of social nuisance and the exploitation of sex workers. The provisions were unconstitutional because they went too far in terms of the conduct they prohibited as compared to the social harms they were supposed to address. In addition, the very serious impact of some of the prohibitions on sex workers' safety was "totally out of sync" with the objective of the law.
The Canadian authorities have an obligation to ensure that the most degenerate and disgusting acts are performed safely. Perhaps not engaging in it at all would be safer, but who am I to judge?
So what do we have here?
Holocaust denial is an actual crime
Degeneracy allowed into Canada as gay rights
Sikhs can bring knives to school
Taxpayer funded narcotics is a human right
Muslims can conceal their faces while testifying
Laws changed to make sex work safe
Ex-pats with citizenship allowed to vote
Criminals allowed to vote while in prison
The above rulings of course are just a small piece of what has been happening in Western countries. While Christianity (the foundation of the West) is being stripped away, other groups are able to come in and use the courts to impose their ideologies.
Another important one to list is marriage being redefined. While it is arguable how much harm this causes, the gay rights movement has proceeded to demand that institutions such as churches host their weddings, and that bakers make their cakes. So much for not imposing on others.
What is obviously the best option is to stop the ever increasing demands for accommodation. Alternatively, Christians need to start militarizing the courts to have their interests protected. Being passive about it will only lead to their destruction.
Simply being tolerant and accepting of other groups does not work when they seek to replace your way of like with theirs. This is what multiculturalism brings: eventually the host(s) get replaced by the foreigners who are allowed in.
What is the consequence of laws and rulings that strip away the founding religion of the country? Eventually you end up with a group, (despite being a majority), have no real rights. And when they become a minority — as demographics shift — they will become targeted.
7. Churches Shut Down During "Planned-Emic"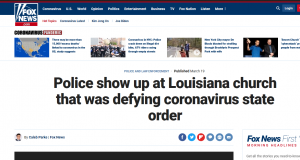 Government across the West are ordering religious congregations to stope while the alleged "pandemic" is putting everyone in danger. However, it is nice to see that some are willing to defy what are illegal and unconstitutional orders. This is in the U.S., but things are starting to happen in Canada as well.
Having such incidents videotaped and splashed across the internet causes headaches for the police, who come across looking heavy handed and fascistic. It also creates problems for politicians who claim to support freedom of religion and be religious themselves.
If the court can't or won't act to defend these fundamental freedom, then perhaps good old fashioned shaming and humiliation will do the trick.
8. Fighting For Freedom Of Religion
Now let's get into the Charter a little bit:This is going to be a bit out of order, though done intentionally. The purpose is to go through the mental process of standing up for your rights
Fundamental freedoms
2. Everyone has the following fundamental freedoms:
(a) freedom of conscience and religion;
(b) freedom of thought, belief, opinion and expression, including freedom of the press and other media of communication;
(c) freedom of peaceful assembly; and
(d) freedom of association.
These are the fundamental freedoms that any modern society would have. The content of section 2 is very similar to the First Amendment of the U.S. Constitution. Without these fundamental freedoms, you are essentially living in a dictatorship. There are 2 provisions in the constitution which will help
Enforcement of guaranteed rights and freedoms
24. (1) Anyone whose rights or freedoms, as guaranteed by this Charter, have been infringed or denied may apply to a court of competent jurisdiction to obtain such remedy as the court considers appropriate and just in the circumstances
Primacy of Constitution of Canada
52. (1) The Constitution of Canada is the supreme law of Canada, and any law that is inconsistent with the provisions of the Constitution is, to the extent of the inconsistency, of no force or effect.
Marginal note:
Constitution of Canada
(2) The Constitution of Canada includes
(a) the Canada Act 1982, including this Act;
(b) the Acts and orders referred to in the schedule; and
(c) any amendment to any Act or order referred to in paragraph (a) or (b).
If your rights are being violated, you can cite one of — or both — Sections 24 and 52. Section 24 states that you have the right to seek a remedy in court, and section 52 states that laws inconsistent with the Constitution have no effect. (Note: The Charter is a subset of the Constitution as a whole). But, it is not quite as simple as that, and here is why:
Rights and freedoms in Canada
1. The Canadian Charter of Rights and Freedoms guarantees the rights and freedoms set out in it subject only to such reasonable limits prescribed by law as can be demonstrably justified in a free and democratic society.
Section 1 is very important here. Plainly put, it says that the government must be able to justify any Charter violation it causes in any of the further sections. While a difficult burden, it's often not impossible to meet.
If you believe that these forced church closures violate your Section 2 rights (fundamental freedoms), you can go to court to assert that. Should you be able to prove it, the burden then shifts to the Government to establish that these violations are justified under Section 1.
Interestingly, these prohibitions seems almost exclusively aimed at Christians. Most likely, Muslims would react violently if treated the same way.
Now, would a court find that these restrictions are reasonably justified? The answer is not as clear cut as many would like. It would largely depend on information coming from the Office of Public Health, and laws such as the Quarantine Act or Emergencies Act.
Let's ignore for the time being that this pandemic is a hoax, and that the courts are politically stacked. Let's assume it were to play out in a fair way.
9. Quarantine & Emergencies Act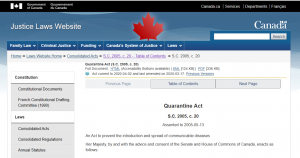 Quarantine station
6 (1) The Minister may establish a quarantine station at any place in Canada.
Marginal note:
.
Provision and maintenance of area or facility
(2) The operator of a facility in which a customs office, within the meaning of subsection 2(1) of the Customs Act, is located shall, when required in writing by the Minister, provide and maintain free of charge any area or facility, along with its fixtures, that the Minister considers necessary for establishing a quarantine station
Quarantine facilities
7 The Minister may by order designate any place in Canada as a quarantine facility and amend, cancel or reinstate the designation.
Well, so much for properties rights if any place in Canada can simply be deemed a quarantine station by the Minister, with no say so by the owners or tenants.
Duty to provide
8 (1) Any person in charge of a place shall, at the request of the Minister, provide that place to the Minister if, in the opinion of the Minister, the temporary use of the place as a quarantine facility is necessary to protect public health.
Marginal note:
Deeming
(2) The place is deemed to be designated as a quarantine facility.
Marginal note:
Compensation
(3) The Minister may compensate any person for the Minister's use of the place.
Marginal note:
Consultation
(4) The Minister shall consult with the provincial public health authority of the province in which the place is situated before taking possession of it.
The Minister "may" compensate the owners for property that is seized and used but they don't have to. Also, while the Province must be consulted, it doesn't say they have to agree.
Arrest without warrant
18 A peace officer may, at the request of a screening officer or quarantine officer, arrest without a warrant and bring to a quarantine officer any traveller who the peace officer has reasonable grounds to believe has refused to be isolated or refuses to comply with a measure under subsection 15(3).
Offence committed intentionally
67 (1) Every person is guilty of an offence if they cause a risk of imminent death or serious bodily harm to another person while wilfully or recklessly contravening this Act or the regulations.
Marginal note:
Punishment
(2) Every person who commits an offence under subsection (1) is liable
(a) on conviction on indictment, to a fine of not more than $1,000,000 or to imprisonment for a term of not more than three years, or to both; and
(b) on summary conviction, to a fine of not more than $300,000 or to imprisonment for a term of not more than six months, or to both.
The problem is that so much in this Quarantine Act is discretionary, and leaves citizens with no real rights. The act is too long to cover in a single article, but the link is provided.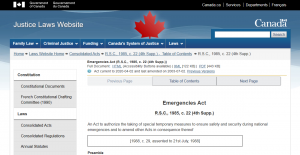 National emergency
3 For the purposes of this Act, a national emergency is an urgent and critical situation of a temporary nature that
(a) seriously endangers the lives, health or safety of Canadians and is of such proportions or nature as to exceed the capacity or authority of a province to deal with it, or
(b) seriously threatens the ability of the Government of Canada to preserve the sovereignty, security and territorial integrity of Canada
and that cannot be effectively dealt with under any other law of Canada.
Declaration of a public welfare emergency
6 (1) When the Governor in Council believes, on reasonable grounds, that a public welfare emergency exists and necessitates the taking of special temporary measures for dealing with the emergency, the Governor in Council, after such consultation as is required by section 14, may, by proclamation, so declare.
Marginal note:
Contents
(2) A declaration of a public welfare emergency shall specify
(a) concisely the state of affairs constituting the emergency;
(b) the special temporary measures that the Governor in Council anticipates may be necessary for dealing with the emergency; and
(c) if the direct effects of the emergency do not extend to the whole of Canada, the area of Canada to which the direct effects of the emergency extend.
Orders and regulations
8 (1) While a declaration of a public welfare emergency is in effect, the Governor in Council may make such orders or regulations with respect to the following matters as the Governor in Council believes, on reasonable grounds, are necessary for dealing with the emergency:
(a) the regulation or prohibition of travel to, from or within any specified area, where necessary for the protection of the health or safety of individuals;
(b) the evacuation of persons and the removal of personal property from any specified area and the making of arrangements for the adequate care and protection of the persons and property;
(c) the requisition, use or disposition of property;
(d) the authorization of or direction to any person, or any person of a class of persons, to render essential services of a type that that person, or a person of that class, is competent to provide and the provision of reasonable compensation in respect of services so rendered;
(e) the regulation of the distribution and availability of essential goods, services and resources;
(f) the authorization and making of emergency payments;
(g) the establishment of emergency shelters and hospitals;
(h) the assessment of damage to any works or undertakings and the repair, replacement or restoration thereof;
(i) the assessment of damage to the environment and the elimination or alleviation of the damage; and
(j) the imposition
(i) on summary conviction, of a fine not exceeding five hundred dollars or imprisonment not exceeding six months or both that fine and imprisonment, or
(ii) on indictment, of a fine not exceeding five thousand dollars or imprisonment not exceeding five years or both that fine and imprisonment,
for contravention of any order or regulation made under this section.
There are some problems with the Emergency Act, and they are much the same as with the Quarantine Act. The Act allows the Government broad, sweeping powers, with little in the way of oversight.
How does having entire cities in lockdown, and shutting down religious services make the public safer? The government knows so little about this virus, that it is cutting off the well being and livelihoods of people in the name of scaremongering.
Both the Emergency Act (1985) and the Quarantine Act (2005), have been on the books for a long time. Would invoking either of them be a reasonably justified used of limiting people's fundamental freedoms, which are guaranteed under Section 2 of the Charter? Would the circumstances allow the infringement to be justified under Section 1?
Most people would say no. And most wouldn't want important things — such as weekly services — shut down for such vague reasons. However, if Government agents were to CLAIM there is an ever present threat, they may be able to get away with it for a time.
While there is little interest in packed grocery stores (although that is changing), religious services need to be shut down almost entirely. This is not about public safety, but about control.
If the public officials are acting on the orders from near dictatorial politicians, and the courts are unable or unwilling to intervene, what options do we have?
10. Tips On Fighting Back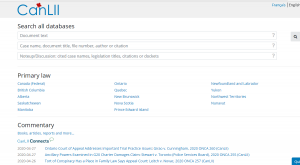 First, understand that according to Pintea v. Johns (2017), court officers now have a legal obligation to go the extra mile to ensure that self represented people get a fair hearing. It isn't option.
Second, in most cases (criminal court) there will be a duty counsel that you can speak to — for free — to get general information on how to proceed.
Third, legal research is within the grasp of most everyone with decent reading skills. My favourite is https://www.canlii.org/en/, where there is a wealth of free information. The skill involved is a combination of searching Google and Wikipedia.
Fourth, all of the rules you need to know are freely available online. This includes the Canadian Criminal Code (if applicable), and the Rules for Civil Procedure in your Province.
This experience will be frustrating, but standing up for your rights is within the grasp of most people. You can always pay for a lawyer later if need be.
People who do get arrested, or who are ticketed for practicing their faith (or some other harmless activity) should fight back. Contest the ticket, and fight any charges. If it's something you and you family are comfortable with, publish the incident, and feel free to out the police officer or by-law officers.
While this does seem daunting, the overwhelming majority of these cases will be quietly dismissed. Why? Because the authorities don't want a lingering public headache.
But think it through before making a hasty decision.
11. Demographic Replacement Of Christianity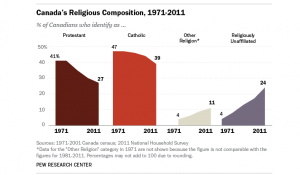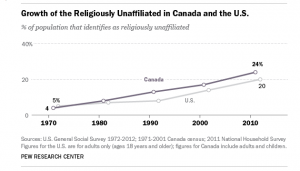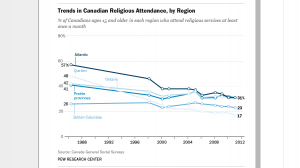 About 20% of Canada's current population was born in some other country. With such a large presence, immigrants have had a substantial impact on Canada's religious landscape (as in the United States, where immigrants – including those who are unauthorized – make up an estimated 13% of the total population.)
In the 1970s and 1980s, Canada's foreign-born population was smaller, largely European and overwhelmingly Christian. In recent years, however, rising numbers of immigrants – nearly half of Canada's immigrant population – have come from Asia, Africa and the Middle East. In the U.S., by comparison, three-in-ten of all foreign-born residents have come from these three regions.
In Canada, disaffiliation has increased markedly within some generations as they have aged. For example, one-in-ten Canadians born between 1947 and 1966 had no religious affiliation in 1981, but one-in-five are unaffiliated as of 2011. Even Canada's older adults (those born in 1946 or earlier) have experienced gradual increases in disaffiliation; their rate of disaffiliation has gone from the single digits in the 1970s to double digits in recent years. In the U.S., by contrast, the share of people with no religious affiliation has been fairly stable within each generation over time (though disaffiliation has ticked up slightly among American Baby Boomers – those born between 1946 and 1964 – and Gen Xers – those born between 1965 and 1980).
As the geographic origins of Canadian immigrants have shifted, so has their religious makeup. A majority of immigrants (56%) who arrived during the 1970s were either Catholic or Protestant, while about a quarter were affiliated with other religious traditions, including Eastern Orthodox Christianity, Islam, Buddhism, Sikhism, Hinduism, and Judaism. Since 2001, about four-in-ten (39%) new Canadian immigrants have belonged to these religious minorities, the same as the share of new immigrants (also 39%) who identify as either Catholic or Protestant. Because immigrants comprise more than a fifth of Canada's population, the rising share of immigrants who belong to religious minorities has had a substantial impact on the religious composition of the overall population.
This 2013 report from Pew Research details Canada's changing religious landscape over recent decades. It correctly points out that huge amounts of immigration is in fact changing the overall landscape.
12. Pop'n Replacement Is Spiritual Replacement
This seemingly absurd statement makes sense when you put it into context. Every year, Canada is bringing in large numbers of people from countries that are of a very different religious makeup. Consequently, there is a large demographic shift going on.
(Page 18 of the 2004 Annual Report to Parliament)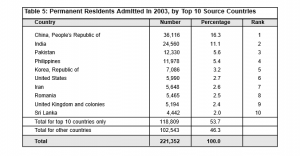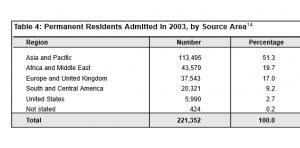 (Page 24 of the 2005 Annual Report to Parliament)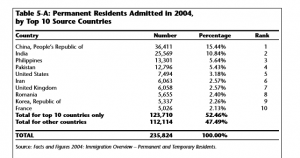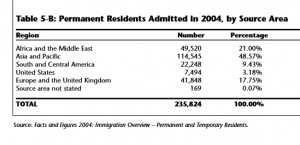 (Page 18, 19 of the 2006 Annual Report to Parliament)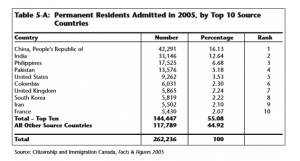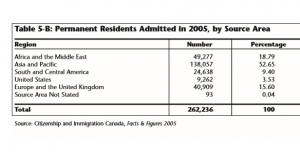 (Page 19, 20 of the 2007 Annual Report to Parliament)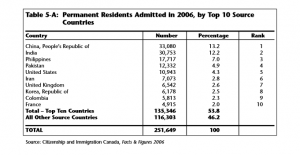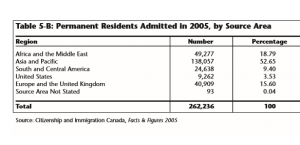 (Page 21, 22 of the 2008 Annual Report to Parliament)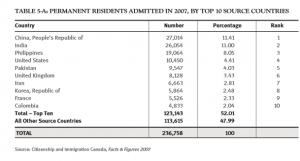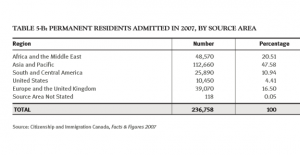 (Page 16 of the 2009 Annual Report to Parliament)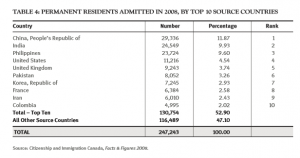 (Page 14 of the 2010 Annual Report to Parliament)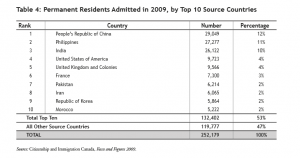 (Page 18 of the 2011 Annual Report to Parliament)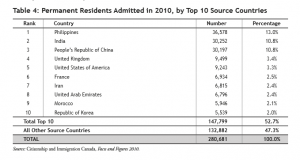 (Page 15 of the 2012 Annual Report to Parliament)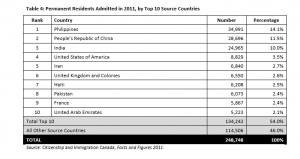 (Page 19 of the 2013 Annual Report to Parliament)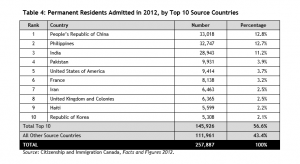 (Page 16 of the 2014 Annual Report to Parliament)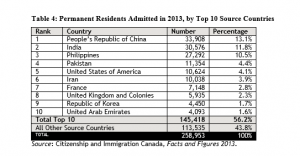 (Page 16 of the 2015 Annual Report to Parliament)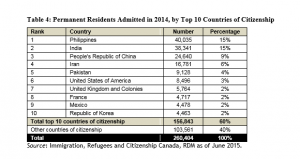 (Page 10 of the 2016 Annual Report to Parliament)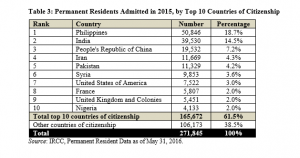 (Page 14 of the 2017 Annual Report to Parliament)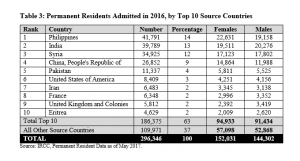 (Page 28 of the 2018 Annual Report to Parliament)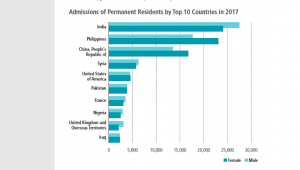 (Page 36 of the 2019 Annual Report to Parliament)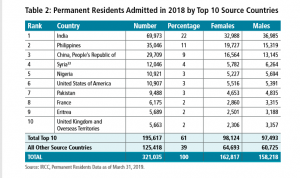 (1) 2004 Annual Report to Parliament
(2) 2005 Annual Report to Parliament
(3) 2006 Annual Report to Parliament
(4) 2007 Annual Report to Parliament
(5) 2008 Annual Report to Parliament
(6) 2009 Annual Report to Parliament
(7) 2010 Annual Report to Parliament
(8) 2011 Annual Report to Parliament
(9) 2012 Annual Report to Parliament
(10) 2013 Annual Report to Parliament
(11) 2014 Annual Report to Parliament
(12) 2015 Annual Report to Parliament
(13) 2016 Annual Report to Parliament
(14) 2017 Annual Report to Parliament
(15) 2018 Annual Report to Parliament
(16) 2019 Annual Report to Parliament
Note: this by no means it everyone who enters Canada in those years. In particular, it leaves out large numbers of students and temporary workers.
Nonetheless: look at who is actually staying in Canada. Each year we bring in people from India (Sikh and Hindu), China (Communist, Atheist), and various Middle Eastern and African nations (Islam). While the people coming in are not monolithic, these trends do have a significant impact on the religious demographic changes in Canada.
Interestingly, there doesn't seem to be much of a difference in Liberal and Conservative immigration policies. Neither care about maintaining the demographic or founding ideologies of the West. Of course if you bring any of this up, you will be called a bigot.
All they focus on is:
(a) Singing the praises of diversity
(b) Perceived economic growth — ie cheap labour
13. Spiritual Replacement Is Genocide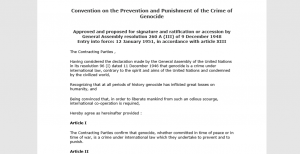 Consider the UN Convention on preventing and punishing genocide.
Article I
The Contracting Parties confirm that genocide, whether committed in time of peace or in time of war, is a crime under international law which they undertake to prevent and to punish.
Article II
In the present Convention, genocide means any of the following acts committed with intent to destroy, in whole or in part, a national, ethnical, racial or religious group, as such:
(a) Killing members of the group;
(b) Causing serious bodily or mental harm to members of the group;
(c) Deliberately inflicting on the group conditions of life calculated to bring about its physical destruction in whole or in part;
(d) Imposing measures intended to prevent births within the group;
(e) Forcibly transferring children of the group to another group.
1948.UN.Convention.Genocide.Prevention.Punishing
Despite the West being founded on Christianity, our "leaders" see nothing wrong with bringing hordes of other ideologies over. They are given free reign and protected status, while Christians must become more secular and accommodating. I wonder how tolerant these other groups will be as their numbers grow. This is all while "conservatives" crow about how tolerant they are.
Just like with replacing ethnic groups, replacing religious groups also qualifies as genocide under the 1948 UN Convention.
14. Foreign Religions Taking Over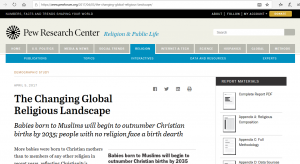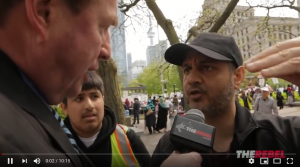 At the Al-Quds Festival, Muslim man bragging that demographic change will lead to Sharia Law replacing Canadian Law at some point. He cites Pew Research data that suggests Muslims will have a plurality — be the biggest individual group — by 2060.
This man isn't kidding about Islam becoming the biggest religious group. The goal is world domination, and they are breeding their way to get it. These findings, from Pew Research.
Babies born to Muslims will begin to outnumber Christian births by 2035; people with no religion face a birth dearth.
More babies were born to Christian mothers than to members of any other religion in recent years, reflecting Christianity's continued status as the world's largest religious group. But this is unlikely to be the case for much longer: Less than 20 years from now, the number of babies born to Muslims is expected to modestly exceed births to Christians, according to new Pew Research Center demographic estimates.
Muslims are projected to be the world's fastest-growing major religious group in the decades ahead, as Pew Research Center has explained, and signs of this rapid growth already are visible. In the period between 2010 and 2015, births to Muslims made up an estimated 31% of all babies born around the world – far exceeding the Muslim share of people of all ages in 2015 (24%).
The current age distribution of each religious group is an important determinant of demographic growth. Some groups' adherents are predominantly young, with their prime childbearing years still ahead, while members of other groups are older and largely past their childbearing years. The median ages of Muslims (24 years) and Hindus (27) are younger than the median age of the world's overall population (30), while the median age of Christians (30) matches the global median. All the other groups are older than the global median, which is part of the reason why they are expected to fall behind the pace of global population growth.
He's not wrong at all. Pew Research is predicting exactly that. Muslims will become the biggest religious group in a short time.
Of course, the fact that they murder: Christians, Jews, Buddhists, Atheists, gays, blasphemers, apostates, and different sects of Islam "might" have something to do with those changing demographics. They aren't exactly tolerant.
How is Canada, or any nation for that matter, supposed to retain its heritage when it allows large numbers of people annually from completely different backgrounds who will soon outbreed their hosts?
Muslims maintain their religion and culture. Westerners give it all up in the name of being "diverse and tolerant". But when push comes to shove, the stronger and more cohesive group will win, especially should civil war break out.
15. Time To Reverse This Trend
The government imposed closing of churches and other religious institutions is an attack on religion itself. None of this is necessary for public health. Instead, this is a show of force, and a show of how much contempt it holds in general for faith.
While the Quarantine Act and Emergency Act are seriously overreaching. There are ways to fight back. And the fighting back must happen. This "pandemic" is a thinly veiled attempt at seizing money and power, and was never about public safety.
Beyond this though: Christianity has been under attack in the West for a very long time. Most overtly, the population replacement agenda has led to the importation of large numbers of people (each year), who have nothing to do with Christianity. Worse still, Liberals and Conservatives (basically the same thing) see nothing wrong with bringing people — like Muslims — who are openly hostile to Christianity.
It's beyond cliché at this point, but modern Conservatives conserve absolutely nothing. Preserving the spiritual foundations of the Western world is no exception. It's disturbing how much pride they take in proclaiming that "we don't play identity politics", and that "We're not socially conservative. We support freedom".
It is group identity and cohesion that is the basis for a society. If Christians (or related denominations) don't do it, they will be replaced by groups that are cohesive. Islam being an obvious example.