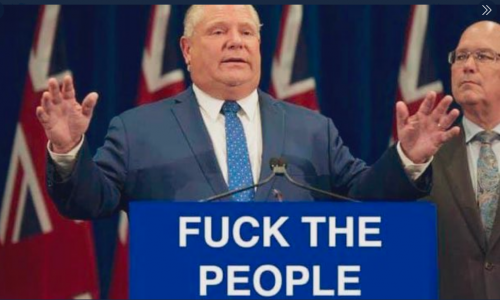 (warning signs were missed when Ford campaigned in 2018)
The lawyers representing Doug Ford, former Premier of Ontario, and accused mass murder, have come up with a new defense: We're all in this together. It's a bizarre spin-off of the "just following orders" defense that became notorious during the Nuremberg Trials.
For the fifth day in a row, an angry mob was outside the Court, shouting and carrying pitchforks.
Ford is complaining of cruel and unusual punishment, since the prison refuses to serve cheesecake. He also states that he routinely gets mocked in the exercise yard.
Ford's lawyers explained that according to computer modelling, Covid-19 was going to overwhelm the hospitals. Accordingly, most non-essential medical care had to be postponed. When asked why there were mass layoffs at hospitals, the lawyers shrugged and said it was to save money.
The lawyers were also asked if this computer modelling had ever proven accurate. They responded that it was irrelevant, and that only dinosaurs question the science.
Reporters further pressed on about the virus never being isolated, and that was met with confusion. Since drawings of it were all over the internet, everyone just assumed it had been.
But it turned out that the Defendants weren't really all in it together. They refused to support each other, and blamed the co-Defendants for the situation.
A video surfaced of Christine Elliott saying at a press conference that if someone died WITH the virus, it was treated as dying FROM it. Lawyers for the ex-Health Minister denied that it artificially drove up cases.
Former Deputy Medical Officer Barbara Yaffe pointed out that things weren't as bad as originally thought. She said, "If we're working in an area without very much Covid, we get false positives, almost half the time. Heck, half the people who we think may have died, really haven't."
When asked what data she was relying on, Yaffe replied, "I don't know. I don't know why I bring all these papers to press conferences. I never look at them, and only say what they tell me to."
"Yeah, yeah, me too." confirmed former Chief Medical Officer David Williams.
The staff who run the Twitter account for Toronto Public Health blamed each other for the admission that if a person dies with Covid-19, it is considered to be the BECAUSE OF Covid-19
Patrick Brown, the former Mayor of Brampton, had been detained while playing hockey in an otherwise abandoned arena. He had been indignant and yelled "I'm a conservative". Similar comments were made by former Toronto Mayor, John Tory, arrested at a Blue Jays game.
Brian Pallister was finally removed as Premier of Manitoba. He had ordered G4S to act as security for the building, and was often heard shouting, "You're an idiot. We're all in this together".
Former Alberta Premier, Jason Kenney, had been asked about the 90% false positives he discussed on Danielle Smith's talk show. Kenney reiterated that he was not an expert, and relied on experts to tell him what to do.
Kenney had also openly discussed how harmful and destructive lockdowns were — right before imposing a more harsh lockdown.
Calgary Mayor Naheed Nenshi hasn't been seen in almost 4 months. Riots broke out in the City after police tasered a 7 year old boy for playing hockey without a mask.
Bonnie Henry, the former Provincial Health Officer of BC, is being tried in that Province on similar charges to those in Ontario. Rumours spread that she had suffered depression in custody, but cheered up when she started talking about vaccinating everyone. Her lawyer defended her actions stating that while there was no science behind what she does, it was a consistent and rational approach.
These trials are expected to last several months. While no one wanted the case initially, a few lawyers stepped forward when it became known that convictions for crimes against humanity could lead to some deportations.
A civil lawsuit had been filed in Toronto 10 months ago, though it's unclear if everyone had been served. The Statement of Claim was missing most service addresses, and no one has responded.
It's now up to the Judges to see if "we're all in this together" is a valid and legitimate defense to the destruction that has been brought on Canadians.