"[17] I also conclude that these claims are precisely ones that are of the kind that s. 137.1 is designed to discourage and screen out. "
"[58] For greater clarity, I view all of the expressions or statements complained of by the Plaintiffs to have been made on matters of public interest. The test required by s. 137.1 has been applied to each in order to determine the appropriate result. In each case, I should be taken to have accepted and adopted fully the submissions advanced on behalf of each of the Defendants." – Justice Stewart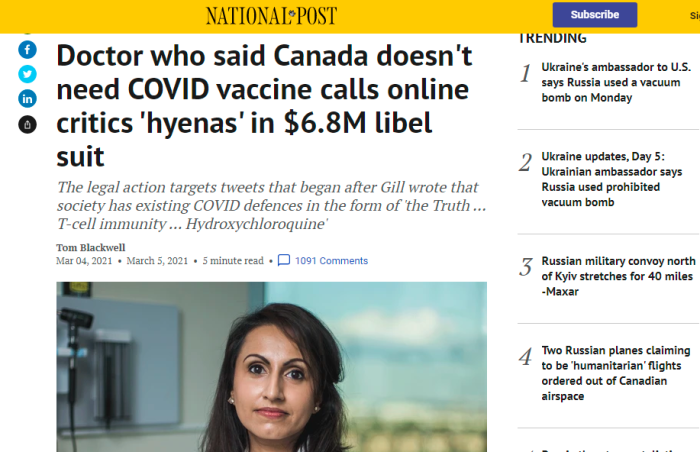 A $12.75 million defamation lawsuit filed in December 2020 has been ended. The Ontario Superior Court ruled that it fully met the criteria for being classified as a SLAPP, and was dismissed. Kulvinder Gill and Ashvinder Lamba demanded millions in damages from online words. They literally tried to bankrupt people they disagreed with on platforms like Twitter.
Perhaps bragging about it in the national papers wasn't the best idea.
The substance of this came from online postings related to restricting people's freedoms, and what pharmaceuticals were best during a "pandemic". (It's fake, but that's a discussion for another time).
In a 51 page ruling, Justice Elizabeth Stewart said that it was exactly the sort of case which anti-SLAPP laws were designed for. The sheer number of Defendants, 23, and the amount of money sought was staggering. Despite this, the Plaintiffs never produced any real evidence of damages to justify the millions they demanded.
To be blunt, this case appears to be frivolous and vexatious.
Considering how this came about, and all of the racism accusations leveled in the Statement of Claim, Gill and Lamba are very lucky they weren't countersued for defamation. The Defendants would have had a much stronger case. Nonetheless, this lawsuit never stood a chance, if it even made it to trial.
A Quick Introduction To Civil Procedure
There are several sections of the Rules of Civil Procedure for Ontario which permit cases to be ended early. Truly meritless Claims and Applications clog up the system, and deserve to be removed.
Rule 2.1.01(6) this allows the Registrar to stay or dismiss a proceeding if the proceeding appears on its face to be frivolous or vexatious or otherwise an abuse of the process of the court
Rule 20: this covers Summary Judgement Applications. Either side can file for one, if it appears that either there is no case, or no valid defense. Appropriate when there are no major issues to resolve
Rule 21.01: in order to expedite a case, permits: (a) for the determination, before trial, of a question of law raised by a pleading in an action where the determination of the question may dispose of all or part of the action, substantially shorten the trial or result in a substantial saving of costs; or (b) to strike out a pleading on the ground that it discloses no reasonable cause of action or defense
Rule 24: if Plaintiffs are unnecessarily delaying the proceedings, and this can happen in different stages, the Court has the discretion to dismiss it
Rule 25.11: an option to strike the pleadings — which does not amount to trying the case — if a pleading is frivolous, scandalous, vexatious, or otherwise an abuse of process
Rule 2.1.01(6) is meant for a Registrar, or low-level official. This is restricted to the very obvious cases. The others involve higher standards, and are meant for Justices, Judges or Associate Judges.
In the case of defamation lawsuits, Section 137.1 of the Courts of Justice Act provides another remedy. If a Plaintiff is using the Courts as a weapon to silence discourse on an important public issue, this can be stopped by filing an anti-SLAPP Motion.
SLAPP Means Strategic Lawsuit Against Public Participation
This isn't unique to Ontario. There are other Provinces and U.S. States which have very similar laws on the books, and the principles are much the same.
Prevention of Proceedings that Limit Freedom of Expression on Matters of Public Interest (Gag Proceedings)
.
Dismissal of proceeding that limits debate
.
Purposes
.
137.1 (1) The purposes of this section and sections 137.2 to 137.5 are,
.
(a) to encourage individuals to express themselves on matters of public interest;
(b) to promote broad participation in debates on matters of public interest;
(c) to discourage the use of litigation as a means of unduly limiting expression on matters of public interest; and
(d) to reduce the risk that participation by the public in debates on matters of public interest will be hampered by fear of legal action.
Once a SLAPP Motion is brought forward, it freezes everything else. Nothing can happen until this is resolved, which includes possible appeals to the higher Court(s).
It's important to note that anti-SLAPP applies to speech that's of a public interest matter. It doesn't apply to disputes over private issues. Once the Defendant(s) satisfy the Court that the speech is of a public matter, the burden then shifts to the Plaintiff(s). To prevent dismissal, Judge or Justice must be convinced there are grounds to believe that:
the proceeding has substantial merit, and
the moving party has no valid defence in the proceeding; and
the harm likely to be or have been suffered by the responding party as a result of the moving party's expression is sufficiently serious that the public interest in permitting the proceeding to continue outweighs the public interest in protecting that expression.
If the Plaintiff cannot meet all 3 parts of this test, then the case qualifies as a SLAPP. Here, the Court found that they didn't meet even a single prong of the test. As such, the Court had no choice but to dismiss the case. And as the Justice stated, the laws were designed for cases like this.
The Ontario Libel & Slander Act has built in provisions which allow for the protection of certain categories of speech. These include fair comment and qualified privilege, which were heavily referenced in the Decision.
Justification
.
22 In an action for libel or slander for words containing two or more distinct charges against the plaintiff, a defence of justification shall not fail by reason only that the truth of every charge is not proved if the words not proved to be true do not materially injure the plaintiff's reputation having regard to the truth of the remaining charges
Fair comment
.
23 In an action for libel or slander for words consisting partly of allegations of fact and partly of expression of opinion, a defence of fair comment shall not fail by reason only that the truth of every allegation of fact is not proved if the expression of opinion is fair comment having regard to such of the facts alleged or referred to in the words complained of as are proved.
Fair comment
.
24 Where the defendant published defamatory matter that is an opinion expressed by another person, a defence of fair comment by the defendant shall not fail for the reason only that the defendant or the person who expressed the opinion, or both, did not hold the opinion, if a person could honestly hold the opinion.
Communications on Public Interest Matters
Application of qualified privilege
.
25 Any qualified privilege that applies in respect of an oral or written communication on a matter of public interest between two or more persons who have a direct interest in the matter applies regardless of whether the communication is witnessed or reported on by media representatives or other persons.
It's important to know that there are safeguards written into the Act. These are just some of them. A free society can't function properly if speech is weaponized like this.
Could This Dismissal Be Appealed?
In theory, yes. Rule 61.04 allows 30 days to file a Notice of Appeal. However, given how badly the case went, Gill and Lamba would have to be pretty dense to even try. It's a high burden.
Housen v. Nikolaisen, 2002, sets out the standard for review of a decision. Broadly speaking, Appeals are heard because of an alleged error of fact or law.
(i) The standard of review for findings of fact is such that they cannot be reversed unless the trial judge has made a "palpable and overriding error". A palpable error is one that is plainly seen.
(ii) By contrast, a possible error of law is treated "de novo", and looked at as if hadn't been ruled on before. It might be viewed as a lower standard.
The reasoning behind "giving deference" to the factual findings is that the Judge is there, and more able to assess what's going on. Also, there has to be some presumption of competence.
The Justice stated that there was no evidence of damages, the tweets were about public interest matters, and not defamatory. These are findings of fact, and unless something obvious is missed, not easy to challenge. In short, a hypothetical appeal would go absolutely nowhere.
What About Costs For The Defendants?
In the ruling, the Justice gave the Defendants 30 days to make submissions for costs. And here's where things get more interesting.
There are 19 lawyers listed for the Defendants in the REASONS FOR DECISION. While it's unclear how much the total fees are, it's likely a lot. This case involved depositions, and a SLAPP Motion. Both of these are expensive and time consuming. Estimating an average $30,000 each — which may be at the low end — this case would have cost them over half a million to defend.
It's quite possible that the Plaintiffs could each be on the hook for well over $100,000. Although most allegations didn't involve Ashvinder Lamba, she clearly participated in the suit.
The final ruling made it clear that there was no evidence of damages, and that the issues addressed were public matters. Despite the tone in some of the messages, they were protected speech. The suit was frivolous and vexatious, so a stiff award can be expected.
What Exactly Started All Of This?
In the case of Gill and Lamba, this case arose largely over Twitter spats. The Plaintiffs (primarily Gill), got into arguments with people on Twitter, which later ended with her blocking them. I guess there's a little Rempel in all of us.
These other people — who they later sued — were promoting vaccines and martial law measures, for a non-existent virus. Gill, to her credit, opposed these restrictions, but promoted alternative medicines, again for a non-existent virus. However, this was Twitter nonsense, and shouldn't be taken seriously.
Instead of ignoring people if there was such a disagreement, Gill, Lamba, and their representative were documenting and archiving social media posts. To a casual observer, it appears as these may have been planned as a way of generating evidence. In the end, Gill and Lamba sued 23 doctors, media personalities, and media outlets, over relatively harmless comments.
One has to wonder if this was just an overreaction, or a calculated way to silence differing views. Most people supporting freedom want more speech available, not less.
Even on the miniscule chance that this lawsuit had been successful, what was the goal? Suing private parties doesn't result in changes to public policy. There's no way that any money (besides a nominal amount) would ever have been awarded. If anything, it makes lockdown objectors appear unprincipled, despite claiming to support freedom.
After the costs are paid, this won't really be the end. Expect this decision to be a standard for dismissing meritless defamation claims. We now have a precedent of lockdown opponents trying — and failing — to silence and bankrupt their critics. Gill and Lamba will become very well known by lawyers, but for all the wrong reasons.
This isn't to defend people like Abdu Sharkawy, and the quackery promoted. This site has exposed many of the hacks, and media payoffs. Nonetheless, this lawsuit did an enormous disservice to real resistance in Canada. The Plaintiffs can honestly say that they fought, and won, a baseless lawsuit.
If there is something positive in all of this, it's that the Ontario Superior Court did throw out an abusive case because of the chilling effect it would have on public discourse. Read both the Statement of Claim, and Decision for more context. As absurd as these "health measures" are, throwing the suit out really was the right decision.
(1) Gill & Lamba v. Maciver decision CV-20-652918-0000 – 24 Feb 2022
(2) Gill & Lamba Defamation Lawsuit
(3) https://www.canlii.org/en/on/laws/regu/rro-1990-reg-194/latest
(4) https://www.canlii.org/en/on/laws/stat/rso-1990-c-c43/latest/rso-1990-c-c43.html
(5) https://www.canlii.org/en/ca/scc/doc/2002/2002scc33/2002scc33.html
(6) https://www.canlii.org/en/on/laws/stat/rso-1990-c-l12/latest/rso-1990-c-l12.html
(7) https://www.theglobeandmail.com/canada/article-lawsuit-thrown-out-after-anti-vaccine-doctors-sue-over-challenges-to/?utm_source=dlvr.it&utm_medium=twitter
(8) https://nationalpost.com/news/canada/doctor-who-said-canada-doesnt-need-covid-vaccine-calls-online-critics-hyenas-in-6-8m-libel-suit