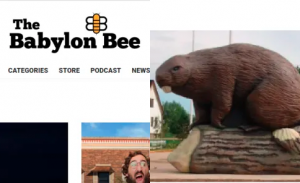 The lawsuit filed by Babylon Bee launched against fellow satire site Babylon Beaver has been delayed once again. After another hearing, the matter has been further postponed. The Bee had sued the Beaver for copyright infringement, for using the term "Babylon" without permission.
The Bee also took issue with the Beaver referring to their site as "fake news you can trust". The Bee's lawyers explained that they had ripped it off from CNN, and that it belonged to them now.
Babylon Beaver explained that due to Canada's open borders policy, everyone coming into the country spoke a different language. This made any sort of communication very difficult. Babylon Bee, a Christian website, wasn't content to "turn the other cheek", and opted to take an eye for an eye.
There were immediately issues in court, as the presiding Judge wasn't sure if the lawsuit was legitimate, or if he was being punked.
It didn't help matters when lawyers for the Bee asked if satire and parody counted as telling the truth. It seemed there were issues over swearing out affidavits, and what counted as "the whole truth". Court officials repeatedly explained that such documents had to be truthful, and that "being really funny" wasn't an acceptable excuse for lying under oath.
Little progress was made with the Babylon Beaver representatives as well. "Comedy is subjective" was raised as a defense for virtually every question raised.
Public opinion has been divided on the subject. Many believe that "Babylon" should be protected in the context of satire, while others see nothing wrong with others using it.
CBC, CTV, and Global News have asked for intervenor status. They are concerned if Babylon Beaver is viewed as a legitimate source of news, it will cut into their subsidies. The Beaver's reporting (while satire), has proven to be far more accurate than any of theirs.
The case is expected to conclude next year.