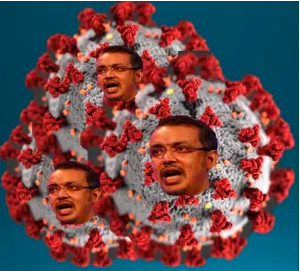 UK medical EXPERTS have announced their findings on a new strain of the Coronavirus. EXPERTS say this new strain is deadlier than the first and requires new public safety measures. The World Health Organization of EXPERTs has confirmed the new strains and provided new safety protocols.
Due to the severity of this new strain, measures need to be doubled up according to Dr. Tedros and his team of EXPERTs. Measures include but not limited to wearing two masks instead of one. A new 12 foot social distancing is also required. While vaccines are now in distribution, Pharma companies should begin receiving immediate emergency funding for a new vaccine stated DR Tedros.
Once the current cycle of vaccinations has completed Leaders across the world must provide needed financial assistance for the struggling WHO, GAVI and Pharma manufacturers advised of Bill and Melinda Gates and Klaus Schwab. The immediate need for a new DNA vaccine instead of the regular RNA vaccine will halt this deadly pandemic urges Bill, an EXPERT on VIRUS'.
Canadian Premiers Doug Ford, Brian Pallister, Jason Kenney, and John Horgan have said they would abdicate any decision making to their team of medical EXPERTs. The Premiers have discussed the new recommendations and stated they will wait for advice on their team of medical EXPERTs. Dr. Terrace Tam of the Federal Public Health Agency has made the statement that although they don't see enacting any new measures, said they are enacting measures before Christmas.
Note: Fred is the newest addition to the Babylon Beaver staff. He identifies as an undocumented vaccinee, and we are not allowed to question that.