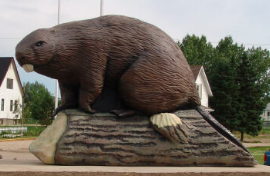 In collaboration with the Babylon Bee and (Not) The Bee, Canuck Law is starting up a satire division to help bring humour an levity to Canadians.
Several alcohol companies are also financing this effort. They expect increased liquor sales, as Canadians realize just how screwed they really are.
Marijuana companies in British Columbia had been set to sponsor as well, but found themselves unprofitable. Yes, government regulations made weed unprofitable in BC.
The new design is an image of a beaver sodomizing a log as Babylon's logo. Originally that presented some concerns to the publishers. However, since the Trudeau Government legalized beastiality, and lowered the age of consent for anal, those barriers were removed. As for consent, don't worry, the log just experienced it differently. Of course, using a glory hole is safer for everyone.
BCPHO Bonnie Henry suggested that the beaver should be wearing a mask as a sign of respect and courtesy. She looked puzzled when asked what evidence there was that masks worked.
Babylon is also a perfect metaphor to represent Canada's multicultural heritage. After all, everyone at the Tower of Babel spoke different languages, and hence no one was able to understand each other. It's symbolic of Canada's lack of any real identity.
Having an open comment forum is probably the best option. It's a reminder of the open borders country we have had for decades, where anyone and anything are accepted.
No question, there will be difficulties. The Canadian market is already pretty saturated with fake news and parody outlets, such as CBC, CTV, Global News, and the Post Media empire. There is also already an established "diet-fake" industry that includes The Post Millennial and True North Canada. Nonetheless, we will push on.
The Babylon Bee helped CNN set up a real-news spinoff. Now, they are assisting Canuck Law and Babylon Beaver get a similar offshoot going for CBC and Global News.
Staffers at Canuck Law have realized that satire, and just making things up, is way easier than doing research and due diligence. However, this will not impact the real-news division.
It was also discovered that piggy-backing off of an established satire site was a much simpler idea than coming up with an entirely new outfit.
Until the Babylon Beaver can start lobbying Ottawa, we won't have access to any of that $1.4 billion government subsidies other outlets get. Please chip in, so we can pretend that it is going to the writers.
Support Babylon Beaver: the most trusted name in fake news, (that your tax dollars are forced to subsidize).