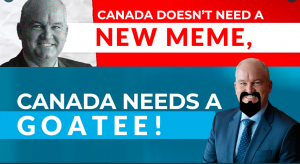 After serious consideration, staff at the Babylon Beaver have decided to support Eric O'Toolie for Prime Minister in the next Federal election.
Anti-free speech elements in the CPC have tried to get this parody account banned from Twitter, claiming it is misrepresentation and impersonation. The producers here at the Beaver do not support censorship or deplatforming of anyone, especially political candidates.
Parody accounts in particular need the most protection, as the truth is too painful for most people to grasp.
Eric (with the goatee), never worked as a Facebook lobbyist, or for Heenan Blaikie, or supported FIPA or CANZUK, or sold Canadians out to foreigners. Eric has also never celebrated walking around in red high heel shoes. That makes him a far more attractive choice then Erin (without the look).
Sure, there are concerns that Eric is just an internet meme, and not a real person. However, the Babylon Beaver recognizes that no one is perfect, and is willing to work with Eric.
And yes, it's true that Eric has no platform, stands for nothing, and speaks in empty and vacuous platitudes. However, that just shows that he has the experience for the job.