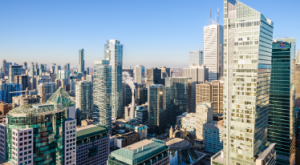 The Babylon Beaver has purchased the Mosaic Hotel in Toronto, Ontario, as the satire news outlet diversifies and expands into real estate.
However, the satire news outfit is taking some rather unusual steps in removing the names and numbers from certain floors. People were rather perplexed as to why.
While it is common for large buildings to remove the 13th floor (as it's considered bad luck), the Beaver has opted to go further, but for different reasons altogether.
The Mosaic's new owners opted to remove the 13th floor — at least the name — as it was seen as causing a disproportionate amount of trouble. Those problems were disproportionately above what they should be. The trouble started spreading to other floors as well.
Violence within the hotel spread to the 50th floor, and sometimes above that. Sexual assault had been reported on the 54th floor. And interracial violence had been investigated on the 90th floor. All of these things caused the Mosaic Hotel's reputation for inclusiveness to be tarnished.
Previously, the Beaver had relied on statistics and data to make decisions. However, a change in management has led the company in a new direction. Now, a more holistic approach will be used.
Despite the challenges, the Babylon Beaver is confident that this venture can work out in the long term. After all, with the outlet's commitment to diversity and inclusion, things will only get better.