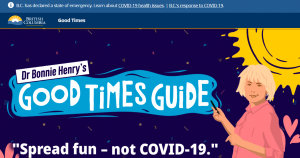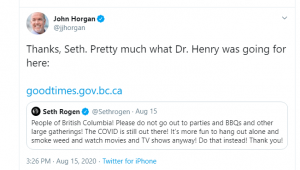 https://goodtimes.gov.bc.ca/
https://twitter.com/jjhorgan/status/1294762295348715520
The Federal and Provincial Governments had only just announced an initiative to have everyone crawl on the ground, and paranoid conspiracy theorist are already denouncing it.
In Ontario, Doug Ford made the announcement at Cheesecake Soccer Field, which had recently moved its goalposts again. With him was Barbara Yaffe, who insisted that "crawl, crawl, crawl" was the new measure, despite there being an 80% – 90% error rate in the testing methods used.
Experts and their computer modelling have determined that the coronavirus isn't nearly as deadly below a height of 3 feet off the ground. It's therefore logical that everyone should crawl on their hands and knees for the next 3-5 years, until the pandemic passes.
Conspiracy nuts are claiming it is bogus science. They claim that computer modelling isn't science, and that the work can't be replicated. They also question mask, vaccine, and butt plug initiatives. Many also allege that the coronavirus isn't even real.
Of course, crawling on your hands and knees doesn't absolve the responsibility to wear masks, and stay 6 feet apart, but would be an extra measure to prevent virus spread. Kinks'R'Us has already donated whips, chains, and ball-gags to make this a smoother transition.
BC Premier John Horgan recommended people to stay home and smoke weed whenever they could. However, if they had to go out, then show people some consideration, and crawl everywhere.
BC Provincial Health Officer Bonnie Henry admitted there no science behind it, but that the Province would be taking an evidence-based approach in implementing the policy. Crawling around was a sign of respect for your neighbours, and public support was in favour of it.
The BC CDC released their findings, saying that the virus has very limited potency at lower heights. If people were anxious, there was always other options to relax. The CDC recommended: prostitution, pornography, masturbating, abortion, glory holes, drug use, safe injection, approved vendors for drugs, narcotics preparation kits, and sex changes for children. All were accepted methods of protecting oneself during the pandemic.
In Quebec, Francois LeGault spoke about climate change in front of the St. Lawrence, where tons of sewage was being dumped. He later talked on fishing lures and joked about the bait-and-switch.
Public Health Officer of Canada, Theresa Tam, was in Toronto to announce new procedures for the expanded children's section at the Gender Identity Clinic. She looked confused when people asked why she wasn't crawling.
Canada's new Deputy Pandemic Minister, Mr. Fabianist, said that these changes would likely invert the social order for good. However, it would be beneficial in the long term.
Privy Council President, Demonic LeBlanc criticized the anti-maskers, anti-vaxxers, anti-crawlers anti-pluggers, and anti-chippers as "lunatics". He promised a stronger law to combat misinformation.
On a related note: the first batch of butt plugs has now been made freely available. People will be expected to take it in the rear and go about their day. Critics have named it the CRA, or Revenue Canada.
Exemptions will be made for people with arthritis, or other conditions that make it impractical to crawl. However, officials don't want to see it being abused.
ME CRAWLING PROTECTS YOU
YOU CRAWLING PROTECTS ME